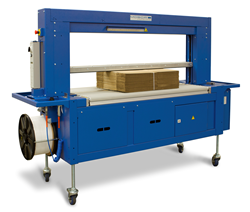 The new TRC-6 is redefining bundler performance standards.
Hazle Township, PA (PRWEB) October 01, 2014
Mosca's new TRC-6 automatic strapping system for corrugated bundles offers advances in mechanical and control technology, a robust new cabinet, new conveyor design, a choice of sealers and a streamlined press mechanism all of which contribute to an exceptionally reliable, high performance bundler.
According to Randy Wright, vice president sales corrugated industry, the new TRC-6 is "redefining bundler performance standards". The TRC-6 bander comes standard with extruded, splined roller conveyors that conveniently lift out for servicing. Five arch sizes are available; the standard being 1650mm (65") x 466mm (18.4") with a throughput capability of up to 30 single strapped bundles per minute.
The TRC-6 is built on Mosca's modular Standard 6 platform for the highest level of mechanical strap path integrity and cycle consistency. Using a precision engineering approach in the manufacture of the strap path contributes to highly precise system assembly for consistent strap feed and extended life span.
The TRC-6 which includes the Standard 6 sealer, features Mosca's advanced DC brushless drives which simplify mechanics and extend service intervals. The new bander has two sealing options. Mosca's proprietary Sonixs ultrasonic sealing system is smoke free and powered only on demand, reducing energy consumption. A highly efficient thermostatically controlled heat seal system is also available. Additionally, the sealer features an open construction and sealed bearing design that sheds dust and dirt and further reduces cleaning and servicing needs.
The machines include a quick change strap dispenser, automatic coil threading and easy access strap path from dispenser to sealer which disassembles without tools for easy cleaning and servicing.
The TRC-6 comes with a membrane type, pivoting, pushbutton operator panel with digital display which can be used as a diagnostic tool as well as providing intuitive operator guidance, bypassing any language barriers. Key parameters are accessible via the interface, with multiple security levels to help manage access.
TRC-6 brings advances in other aspects of integration and cycle management including dry contacts for up/downstream integration into automated production lines; and multiple signal exchange possibilities to manage package flow between the strapping system and up/downstream equipment.
Options include Dual Dispensers and Automatic Coil Changer for increased up-time, Back-Stops, Protective Guarding; and Light Tower for machine status and alerts. Squaring and tandem bundler systems built on the TRC-6 platform will be available in early 2015.
EAM-Mosca Corporation provides high-performance strapping system solutions to a variety of industries, including food, graphic arts, mailing, fulfillment, logistics, corrugated, wood, and other industrial or consumer goods. We combine innovative equipment with strapping materials manufactured to maximize machine performance and customer support programs that help our customers meet their performance and productivity goals.
To learn more about any of EAM-Mosca's other productivity enhancing strapping systems, please call us at 800-456-3420, or email us at info(at)eammosca(dot)com. You can also connect with EAM-Mosca on YouTube (http://www.youtube.com/EAMMoscaCorp), Twitter (http://www.twitter.com/EAMMoscaCorp) or LinkedIn and FaceBook via the company's website. A TRC-6 Brochure is available for download, or request a copy via means above.