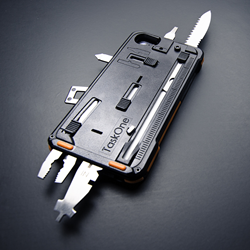 Atlanta, GA (PRWEB) October 01, 2014
TaskLab annouces a partnership with major online retailer Overstock.com to bring TaskLab's unique outdoor, survival, camping, biking, hiking and lifestyle products to major online retail. Available initially in limited quantities and great prices, TaskLab products are now available for purchase through Overstock.com.
At the center of the product offering is the TaskOne G3 for iPhone, which brings a "tool box" filled with necessities into one iPhone case. Packed with hardened stainless steel tools, kickstands and a universal saw blade mount, the TaskOne G3 is the prepper and survivalist dream come true. Tough, rugged and ready for anything, the TaskOne G3 will help campers, hikers, and outdoor adventurers conquer the wilderness. Built from aircraft aluminum and polycarbonate with a tough rubber surround, you can be confident that your iPhone will be protected from any falls, scratches, and damage, while providing the tools any adventurer needs on them. With a 2.5" stainless steel knife, TaskOne G3 can whittle, cut or slice. With the universal saw blade mount, any standard reciprocating saw blade for wood or metal can be attached to the case for sawing logs, 2x4s, steel rebar or copper piping. The TaskOne G3 is robust, confident, and not intimidated by anything you throw at it.
The all new myTask line brings a whole new outlook on customization and personalization for iPhone accessories. For the cycling enthusiast or bike commuter, the myTask Bike is packed with a full suite of cycling specific tools and a 4 pc tire patch kit to help should an emergency arise while riding your bike around the city, to the park or en route to work. Everything you need for a ride, housed in a sleek, slim yet durable polycarbonate shell case. Swap out the BIKE tool tray (without removing the myTask shell from your phone) and swap in the URBAN accessory tray when you get to the office. The URBAN tray contains accessories such as an 8gb USB stick, mirror, tweezers, bottle opener, 2" scissors and a mini-LED light – perfect for those on the go.
By partnering with Overstock.com, TaskLab is looking to expand the reach of their innovative products and provide superior pricing for consumers who are looking for more utility in their smartphone protection choice. TaskLab's mission is to empower users in their everyday lives, whether they are in a survival situation or just need to open a bottle of beer.
About TaskLab Inc.
TaskLab builds "smart" smartphone accessories that are designed for high levels of consumer interaction, brand recognition and product value. The company builds products that bridge the gap between digital and physical worlds; connecting online and offline experiences in a way never before experienced - via mobile phones and device cases. Founded in 2013 upon the belief that mobile technology will transform the way people interact with their environments, TaskLab is headquartered in Atlanta, GA. For more information see http://www.thetasklab.com.