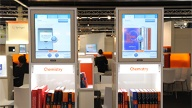 An authoritative reference work covering the history, technologies, and trends of computer graphics and games catered to industry professionals and academic communities worldwide. - Newton Lee
Los Angeles CA (PRWEB) September 30, 2014
The Encyclopedia of Computer Graphics and Games (ECGG) http://refworks.springer.com/computergraphics is an authoritative reference work covering the history, technologies, and trends of computer graphics and games catered to industry professionals and academic communities worldwide. We welcome you to join us in creating the Encyclopedia.
Topics for the Encyclopedia include but are not limited to:

3D Visualization
Artificial Intelligence
Animation
Audio
Augmented Reality
Art and Design
Cinematics
Computer Graphics
Engine Architecture
Game and other Medias
Game Design and Development
Modeling and Texturing
Networked Games
Open-Source Code
Platform
Physics and Simulation
Production
Rendering
User Interface
VFX
Virtual Reality
Each contributed article will be self-contained, comprehensive and written on the premise that a reader may not read any other part of the Encyclopedia. The presentation will focus on concepts, principles, and methodologies, with illustrative examples.
The ECGG will use Springer's state-of-the-art publishing platform SpringerReference that provides cutting-edge online-first publication of articles. While the online ECGG is constantly evolving, an e-book and a hardcover version will be available in late 2015.
The current ECGG editorial board members are:
Mr. Newton Lee (Editor-in-Chief), ACM Computers in Entertainment
Dr. Xiaoamo Wu (Industry Chair), Crytek
Professor Abdennour El Rhalibi (Academic Chair), Liverpool John Moores University
Ms. Susan Johnston, Select Services Films Inc & Founder - New Media Film Festival
Dr. Gareth Edwards, Cubic Motion
Mr. Ramahan Faulk, InReal
Mr. Athomas Goldberg, Lifelike & Believable Animation Design, Inc.
Professor Kunihito Hoki, The University of Electro-Communications
Dr. Yongjoon Lee, Bungie
Professor Minhua Eunice Ma, University of Huddersfield
Professor William Novak, Woodbury University
Professor Yoshihiro Okada, Kyushu University
Professor Zhigeng Pan, Hangzhou Normal University
Professor Ian Parberry, University of North Texas
Professor Edmond Prakash, University of Bedfordshire
Professor Florian Richoux, University of Nantes
Professor Marco Roccetti, University of Bologna
Dr. Yann Savoye, University of Innsbruck
Mr. Sebastian Sylwan, Academy of Motion Picture Arts and Sciences
Professor Daniel Thalmann, Nanyang Technological University
Professor Ruck Thawonmas, Ritsumeikan University
Dr. Xin Tong, Microsoft Research Asia
Professor Xiaopeng Zhang, Chinese Academy of Sciences
For more information, please visit http://refworks.springer.com/computergraphics or contact editorial board member Susan Johnston, Founder/Director New Media Film Festival& President,Select Services Films Inc.