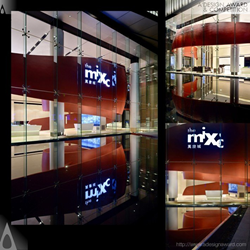 Como, Italy (PRWEB) October 02, 2014
A' Design Award & Competition is pleased to announce that the interior design project "Mix C Sales Centre" by Kris Lin has been honored with a notable Golden A' Design Award in Interior Design Category.
About the "Mix C Sales Centre"
Kris Lin, the lead designer of the awarded work "Mix C Sales Centre," demonstrates, "It is a real estate sales center. The original architectural form is a glass square box. The overall interior design can be seen from the outside of the building and the interior design is totally reflected by the elevation of the building. There are four functional areas: multimedia display area, model display area, negotiating sofa area and material display area. The four functional areas are scattered and isolated. We applied a ribbon to connect the whole space to connect the functional areas and forming a stronger building elevation." Learn more at: http://www.adesignaward.com/design.php?ID=29358
Creative Team for "Mix C Sales Centre"
"Mix C Sales Centre" was designed by Kris Lin (Design Director) and Jiayu Yang (Design Director).
The Golden A' Design Award
The Golden A' Interior Design Award is a prestigious award given to top 3% percentile designs that has accomplished an exemplary level of excellence in design. The designs are judged by a panel of three different jury panels composed of academic, professional and media members. Laureates of the A' Design Award & Competition are given a series of PR and publicity tools in order to celebrate the success of winning the accolades and to promote the award winning designers further. The coveted A' Design Prize includes the award trophy, yearbook, exhibition and gala-night invitations, design excellence certificate, award winner logo license, as well as inclusion to networking and marketing platforms such as Salone del Designer.
About A' Design Award and Competitions
The A' International Design Award and Competition is the Worlds' most international design accolade with participation from all countries, given this unique position the A' Design Award & Competition also annually publishes the World Design Rankings. The A' Design Award & Competition has a philanthropic goal to advance mankind by creating a global awareness and appreciation for good design. Each year the very best design products, projects and ideas from across the globe are recognized with the A' Design Award in order to push designers, artists, architects, engineers and companies worldwide to come up with superior designs and projects that benefit society. Learn more about the A' Design Awards at: http://www.whatisadesignaward.com