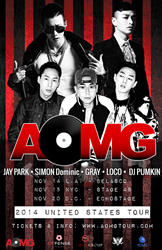 We're really excited to bring AOMG to New York on their first ever U.S. tour, it's a true honor.
New York, NY (PRWEB) October 02, 2014
SIVA GROUP is proud to present the third installment of Asian Music Festival featuring K-pop and K-hip-hop sensations from AOMG, Jay Park, SIMON Dominic, Loco, GRAY, and DJ Pumkin. This three-hour concert will take place on November 15, 7:00PM-10:00PM, at Stage 48, NYC. Doors open at 6:00PM. Information and tickets can be found at Asian Music Festival's AOMG Website.
AOMG is an independent Korean agency and label led by Korean pop sensation Jay Park and Korean rapper and hip-hop artist SIMON Dominic. AOMG, which stands for "Above Ordinary Music Group," is regarded as a label that stands apart from the "idol factory" of Korea by demonstrating a commitment to producing talented R&B and hip hop artists.
Founder and Co-CEO Jay Park was formerly the leader of Korean idol group 2PM from 2008-2010 before breaking out with his solo career. He has captured attention on both sides of the Pacific for his talent and refreshing genuineness. His partner and Co-CEO SIMON Dominic is a talented rapper and hip-hop artist, formerly of award-winning duo "Supreme Team." Jay Park and SIMON Dominic will be appearing alongside AOMG acts Loco, GRAY, and DJ Pumkin.
"We're really excited to bring AOMG to New York on their first ever U.S. tour—it's a true honor," said Steve Hyun, CEO of SIVA GROUP.
The concert will take place at Stage 48, a concert and nightlife venue located in Hell's Kitchen, NY. Tickets for the event may be purchased online via Asian Music Festival's Eventbrite or their Website
AOMG's show in New York City is part of a larger AOMG U.S. Tour, which will also stop in Los Angeles and Washington D.C. Tour dates follow:
November 14 - Los Angeles, CA - Belasco
November 15 - New York, NY - Stage 48
November 20 - Washington D.C. - Echostage
Relevant Links
AOMG U.S. Tour Website
AOMG NYC Tickets
AOMG NYC Website
ABOUT THE ARTISTS
Jay Park is a singer, dancer, choreographer, rapper, songwriter, producer, actor, model, and member of Seattle breakdance crew Art of Movement (AOM). Described as a "born entertainer" by K-pop legend Patti Kim, Jay Park has lived up to that moniker by excelling in every aspect of the music industry and beyond. The New York Times once quoted the words of the president of digital music distributor DFSB Kollective to describe Park as "not just an artist, but also his own PR agent, fan club president, and TV network." AOMG is Park's most recent venture. Park's work has frequently charted to the top of Billboard with his most recent release, Evolution, claiming the fifth spot on Billboard World Charts.
SIMON Dominic, also known as Simon D, is a rapper and hip-hop musician formerly of award-winning duo "Supreme Team." He was also a member of the "Jiggy Fellaz" crew and is currently a member of rap crew "Illest Confusion," associated with AOM. He has also released a solo album, Simon Dominic Presents 'SNL LEAGUE BEGINS'. SIMON Dominic joined AOMG as Co-CEO after his departure from his former label Amoeba Culture.
Loco is a rapper, and one of the newest members of AOMG. He joined on October 10, 2013 after Jay Park held a launching party at "The A" in Seoul with Ben Baller. Loco came out with the hit single "Hold me tight" on March 19, 2014 and has been topping the charts ever since. He was also the winner of Season 1 of Mnet's "Show Me the Money," alongside Double K. Loco is one of the members of hip-hop crew VV:D with labelmate GRAY.
GRAY is a rapper, singer, and music producer, having produced a number of songs for AOMG and other labels. In 2013, he dropped his first maxi album, "Call Me Gray" on AOMG. GRAY has been with AOMG since they started in late September 2013. GRAY and labelmate Loco are members of the hip-hop crew VV:D.
DJ Pumkin was part of Jay Park's 2013 National Tour Concert and is one of the newest members of AOMG.