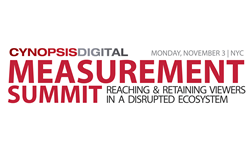 "With a fresh focus on reaching Millennials 22-25, Multiculturals, and adult women, Cynopsis Digital is once again casting a critical lens on the new challenges facing the digital industry today – and providing actionable solutions," says Roberta Caploe
New York, NY (PRWEB) October 02, 2014
Cynopsis Digital, the premier daily publication for digital decision makers, will hold its third annual Measurement Summit, concentrating this year on Reaching & Retaining Viewers in a Disrupted Ecosystem, on November 3 in New York City. The event brings every corner of the industry together to debate the merits of digital video and provide insight on what is working, what isn't working and what we need to better navigate the digital video space going forward.
Speakers from comScore, Google, Simulmedia, Starcom MediaVest, OgilvyOne, Comcast, IAB, Nielsen, PHD USA, YuMe, Baeble Music and many others will reveal best ways to reach audiences online and over mobile devices, and to build the best ROI on digital video ad buys.
"With a fresh focus on reaching Millennials 22-25, Multiculturals, and adult women, Cynopsis Digital is once again casting a critical lens on the new challenges facing the digital industry today – and providing actionable solutions," says Roberta Caploe, Cynopsis Editorial Director.
The Summit will be held at the Grand Hyatt in midtown Manhattan and include a lunch, networking breaks and dedicated one-on-one time with panelists in the Cynopsis "Speaker Salon." For details, please visit http://www.cynopsisdigitalsummit.com.
For questions about registration or for media interviews, contact Pete Romas at pete(at)cynopsis(dot)com or view our FAQ page: http://www.cynopsisdigitalsummit.com/faq/.
For advertising or sponsorship information, contact Vice President of Sales and Marketing, Mike Farina at mike(at)cynopsis(dot)com
Cynopsis Media is a division of Access Intelligence LLC. The Cynopsis Media family of products includes Cynopsis, Cynopsis Digital and Cynopsis Sports daily e-publications, weekly Cynopsis Kids and Classified Advantage e-publications, Special eReports, Event/Summits and a strong database of Classifieds and more. Visit cynopsis.com.
###