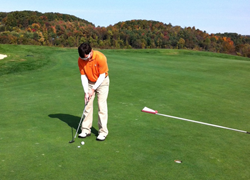 When the temperature drops, the arm sleeves canbe used to help provide warmth and layer without feeling too bulky
Miami, FL (PRWEB) September 30, 2014
Keeping warm on the golf course during the fall months without bulky clothing that affects your swing is always a challenge for golfers. Zensah®, a leading producer of compression apparel, has seen golfers use their compression arm sleeves in the summer not only for UV protection, but also in the autumn season for warmth. The compression arm sleeves provide the perfect blend of warmth while ensuring a full range of motion.
The Zensah® Golf Arm Sleeves are designed to provide a second skin fit. The sleeves are lightweight, as not to inhibit the golfers swing. The compression technology found in each pair of arm sleeves helps to relieve common issues like golfers elbow and elbow tendonitis. The compression arm sleeves are sold in bright colors to match the newest golf styles and popular golf grips.
"What is great about the Zensah® Compression Arm Sleeves is that they are able to be used in both hot and cold weather. They are thermal regulating, moisturizing wicking, and offer UV protection during the summer. When the temperature drops, the arm sleeves can be used to help provide warmth and layer without feeling too bulky," says Zensah® Spokesman, Parker Robinson.
Zensah® Compression Arm Sleeves are sold on Zensah.com and at specialty golf stores.
About Zensah: Zensah® is a Miami-based company, specializing in sports compression apparel. Their seamless compression socks, compression sleeves, full product line are praised by athletes and fitness enthusiasts, including running, cycling, triathlon, yoga, basketball, golf, and soccer. Zensah® offers compression products for performance and recovery. According to Leisure Trends Group Specialty Running RetailTRAK™, Zensah® is the number one selling Compression Leg Sleeves in the USA for Running Specialty.
Parker Robinson
marketing(at)zensah(dot)com
ZENSAH® COMPRESSION APPAREL
(305) 935-4619