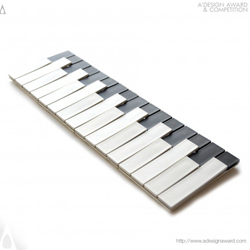 Como, Italy (PRWEB) October 02, 2014
A' Design Award & Competition is pleased to announce that Piano Light Switch by Lithoss has been granted a Golden A' Design Award in Building Materials, Construction Components, Structures & Systems Design Competition.
More information on Piano
David Dos Santos, the project leader of the awarded light switch design Piano explains, "After an intense process of brainstorming, developing and hard work, Belgian design company Lithoss is proud to officially present a complete new range of Designed Switches: PIANO. A switch in the house is usually not considered as important in an interior design. But if you take a look at the PIANO switch, Lithoss is pretty sure you will agree that this switch provides beautiful and futuristic décor to any room. It's been designed to look like soft piano keys you want to touch. The PIANO is frameless, minimalistic, futuristic and simple." Learn more about this design at http://www.adesignaward.com/design.php?ID=29360
The Golden A' Design Award
The Golden A' Design Award is a prestigious award given to top 3% percentile designs that has delivered an exemplary level of perfection in design. Entries to the A' Design Award & Competition are peer reviewed, anonymously voted and judged on predetermined evaluation criteria by a grand jury panel consisting of design professionals, media members, architects and scholars. Laureates of the A' Design Awards are granted a series of PR and publicity tools such as communication to Design Media, inclusion in designer rankings, press kit preparation and distribution, translation of awarded works to foreign languages etc, in addition to the 3D printed metal award trophy, yearbook, design excellence certificate and invitation to gala-night, award ceremony and exhibition in Italy.
About A' Design Award and Competitions
A' Design Award & Competition annually recognizes the very best design work in all creative disciplines from all countries. Each year, designers, brands, architects and artists who create outstanding design products, projects and services are highlighted to public. The ultimate aim of the competition is to create a global awareness for good design as well as to push designers from across the planet to create superior products and projects that benefit society. Learn more and discover the A' Design Awards at http://www.whatisadesigncompetition.com