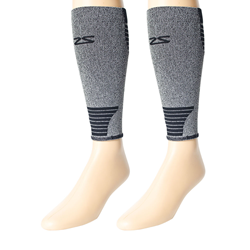 When we designed the Ultra Compression Leg Sleeves, we wanted to offer a product that provides a tighter fit for those experienced with compression
Miami, FL (PRWEB) September 30, 2014
Zensah®, a leading Miami-based sports apparel company, has released their best-selling Ultra Compression Leg Sleeves in the popular heather grey color. Zensah® Ultra Compression Leg Sleeves provider a snugger fit to athletes looking to take their training to the next level.
The higher level of compression in the Ultra Compression Leg Sleeves as compared to the original Zensah® Compression Leg Sleeves, provides maximum blood flow. This leads to decreased muscle recovery time post-exercise, as muscles receive more of the oxygen they need to recover. Improving blood flow also aids in decreasing the chance of injury, as muscles stay warm and loose.
Shin splints, also known as medial tibial stress syndrome, is a common running injury that causes pain in the leg between the knee and ankle. The compression in each pair of Ultra Leg Sleeves helps to provide muscle stabilization, alleviating shin splints and providing calf support.
Parker Robinson, spokesperson for Zensah says, "Our original Zensah® Compression Leg Sleeves have been helping runners and athletes for many years. When we designed the Ultra Compression Leg Sleeves, we wanted to offer a product that provides a tighter fit for those experienced with compression. The response by athletes has been phenomenal and we are excited to expand the offering to now include the popular heather grey color."
About Zensah: Zensah® is a Miami-based company, specializing in sports compression apparel. Their seamless compression socks, compression sleeves, full product line are praised by athletes and fitness enthusiasts, including running, cycling, triathlon, yoga, basketball, golf, and soccer. Zensah® offers compression products for performance and recovery. According to Leisure Trends Group Specialty Running RetailTRAK™, Zensah® is the number one selling Compression Leg Sleeves in the USA for Running Specialty.
Parker Robinson
marketing(at)zensah(dot)com
ZENSAH® COMPRESSION APPAREL
(305) 935-4619