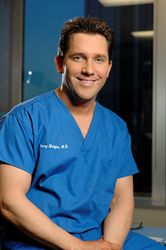 Los Angeles, CA (PRWEB) October 02, 2014
In honor of October's Breast Cancer Awareness Month, The Healing Curve – a breast cancer charity founded by board-certified plastic surgeon, Dr. Gary Motykie in 2008 – announces that they are now accepting applications or nominations for cancer patients needing secondary aesthetic breast reconstruction surgery in 2015, with a goal of doubling the number of donated surgeries performed next year.
The Healing Curve was founded in response to Dr. Motykie being contacted by a number of breast cancer patients whose medical insurance providers covered the initial removal of their cancer, but not the subsequent aesthetic surgeries that are typically necessary to create natural appearing breasts. Many patients also never get the opportunity to seek out an expert in revision surgery and are often referred to surgeons that are more focused on reconstruction and less concerned with aesthetics.
"There are already a number of charities that are focused on breast cancer research in a laboratory," explains Motykie, "but there is also a real need to help breast survivors reconstruct their lives and bodies after the cancer has been beaten. The beauty in plastic surgery is found in giving patients true freedom from their past and any physical disfigurement after they have already completed their struggle with breast cancer."
According to the National Women's Health Law Center, 15 states do not have mandated coverage broader than federal requirements for reconstructive breast surgery. Even worse, the new Affordable Care Act (Obamacare) does not yet specifically require any such coverage.
Motykie says that the charity's first goal is to offer the highest standard of reconstructive surgery and associated medical care to individuals who otherwise cannot afford it. His team is working hard to establish nationwide awareness in order to give these individuals hope and a support system to help them complete their journey. While Dr Motykie's office has personally supported the charity up until now – with two successful fundraising events held in 2014 in Chicago and Las Vegas – the purpose of this announcement is to increase support of the charity in 2015 and help its long-term goal of creating strategic partnerships with other organizations and physicians that may support its mission.
Blessing Permanent Makeup will also be available to Healing Curve patients. Kathryn Alexander, a team member of Motykie Med Spa – which recently opened adjacent to the doctor's plastic surgery center in West Hollywood, California – is a permanent makeup artist who has been practicing for the past 28 years, the last 8 of which were spent working closely with breast cancer patients undergoing reconstructive surgery. Her artistry provides natural-looking brows and eyeliner for chemo patients using rich and non-fading pigments. She can also tattoo natural-looking areolas or nipples on the reconstructed breasts of patients as well as camouflage the scarring around breasts after lumpectomies.
Dr. Motykie expands on his inspiration for launching the charity. "I initially performed the first breast cancer surgeries on the Dr. 90210 television series because I felt that people needed to see what hope and joy plastic surgery is capable of bringing to patients. After the shows aired, the letters came pouring in, each story different, but with one common theme: a physical deformity and no means to correct it. These patients were not only left disfigured and scarred; they were oftentimes left with no means to pay for a quality revision surgery."
To Apply: Those interested in the Healing Curve program should send their stories to: info(at)thehealingcurve.org for consideration by the charity's Board of Directors.
Those who apply should know that the charity exists to help those women who have won the battle against breast cancer but have been left feeling incomplete in the process. Dr. Motykie and his team understand that these women have already been through so much with cancer itself that they deserve the best possible breast reconstruction that plastic surgery can offer.
Of Note: Soon after founding The Healing Curve for breast cancer survivors, Dr. Motykie realized that its reach needed to be expanded to embrace survivors that may have suffered a physical deformity from different causes such as other cancers, trauma, serious illness, prior unsuccessful surgery or birth defects.
About Dr. Gary Motykie: Beverly Hills-based, Board Certified Plastic Surgeon, Dr. Gary Motykie, is a highly skilled specialist in plastic and reconstructive surgery of the face, body and breast.
Dr. Motykie strongly believes that the best plastic surgery results are beautiful, natural and undetectable.
Motykie earned his undergraduate degree from the University of Illinois in the challenging field of Bio-Medical Engineering during which time he was involved in the research and development of artificial organs and prosthetic limbs. After graduating with honors and multiple academic awards, Dr. Motykie followed his dream to study medicine at Northwestern University in Chicago and plastic surgery at the University of Texas, where he performed surgery at one of the top cancer and reconstruction facilities in the world. The doctor completed his multi-layered understanding of the form, function and aesthetics of the human body after completing an Advanced Cosmetic Surgery Fellowship in Beverly Hills California. He has spent the past 10 years dedicated to designing an integrative approach to health, wellness, nutrition and surgery in the hopes of taking plastic surgery to the next level of evolution in the beauty and anti-aging industry.
Aside from his exemplary work within his practice, Dr. Motykie has participated in a number of humanitarian projects and was recently honored with the Physician Recognition Award, from the Celebrate Life Foundation.
Motykie Med Spa: 9201 West Sunset Blvd. GF-1, West Hollywood, CA 90069
###