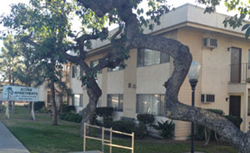 RED was organized and efficient in guiding us through a complex and difficult process. That experience has carried over into the post-closing phase in working with RED's construction loan administration team.
Dallas, TX (PRWEB) October 01, 2014
RED Mortgage Capital, LLC the mortgage lending entity of comprehensive capital provider RED CAPITAL GROUP, LLC, recently worked with Community HousingWorks (CHW) to provide debt financing for affordable housing project Azusa Apartments located in Los Angeles County's San Gabriel Valley. Sources of funding included an FHA Section 221(d)(4) mortgage of $16,523,700 provided by RED, $12.1 million of 9% Low Income Housing Tax Credit (LIHTC) equity, and $1.5 million invested by sponsor CHW utilizing resources from NeighborWorks America.
With a significant shortage of affordable housing throughout Southern California, the rehabilitation of the 88-unit Azusa Apartments ensures that there will be an affordable alternative for those families earning no more than 60% of the Area Median Income (AMI) or $48,900 for a family of four in Los Angeles County in 2014. CHW's successful negotiation with HUD to renew a 20-year contract for 81 project-based Section 8 units ensures that the property can serve vulnerable families, individuals living on fixed and minimum wage incomes, or existing homeless.
CHW has a successful history as a real estate developer in urban, suburban and rural communities with a portfolio of over $400 million comprised of 31 rental communities with nearly 1,800 apartments. Azusa is CHW's seventh successful acquisition to preserve affordability and improve the long-term health of properties originally financed by HUD and at risk of conversion to market rate housing. CHW has extensive experience with acquisition/rehab projects, HUD rental assistance, the tax credit program and FHA mortgage programs.
ICON Builders, which will manage the renovation of the property, has significant experience in the substantial rehabilitation of multifamily and seniors apartment projects, having completed more than 12,000 residential units in California, Washington, Nevada, Arizona and New Mexico.
Nick Hamilton, Managing Director for RED, said, "Support of the rehabilitation not only preserves access to much needed affordable housing in L.A. County, it also satisfies HUD's key goal of supporting community development and partnering with other state and local agencies to meet the communities' housing needs." Hamilton went on to say, "There is considerable local, state and federal support for this project as evidenced by the allocation of 9% LIHTC by the California Tax Credit Allocation Committee (CTCAC), and by HUD's ability to close the transaction within CTCAC's 180-day window."
"HUD financing provided the lowest interest rate available in the market, 40-year amortization, and maximum loan proceeds allowing CHW to complete its entire wish list of rehabilitation needs," said Anne Wilson, Senior Vice President for Housing and Real Estate Development at CHW. Wilson continued, "RED was organized and efficient in guiding us through a complex and difficult process. That experience has carried over into the post-closing phase in working with RED's construction loan administration team."

About RED CAPITAL GROUP, LLC
Recognized for its industry expertise, innovative and comprehensive structures, and consistently high rankings, RED CAPITAL GROUP, LLC has provided over $55.3 billion of integrated debt and equity capital since 1990 to the seniors housing and health care, multifamily, affordable, and student housing industries through three operating companies. RED Mortgage Capital, LLC is a leading Fannie Mae DUS® and MAP- and Lean-approved FHA lender with a mortgage servicing portfolio of almost $18 billion. RED Capital Markets, LLC (MEMBER FINRA/SIPC) is a leader in the distribution of Fannie Mae and Ginnie Mae Project MBS, and provides structuring, underwriting, placement, and advisory services for tax-exempt and taxable housing and health care bonds. RED Capital Partners, LLC provides proprietary debt and equity solutions, and asset management in a range of forms, including subordinated gap and bridge loans. RED CAPITAL GROUP, LLC is a subsidiary of ORIX USA Corporation.
About ORIX USA Corporation
ORIX USA Corporation is a diversified financial company with approximately $6 billion of assets in sectors spanning commercial finance, venture finance, commercial real estate and public finance, as well as $25 billion of assets managed for others. Operating subsidiaries include Houlihan Lokey, RED CAPITAL GROUP and Mariner Investment Group. Headquartered in Dallas, Texas, ORIX USA and its subsidiaries have more than 1,400 employees and offices in major cities including New York, Los Angeles, London and Tokyo.
ORIX USA is a wholly owned subsidiary of ORIX Corporation, a Tokyo-based, publicly owned international financial services company with operations in 35 countries worldwide. ORIX Corporation is listed on the Tokyo (8591) and New York Stock Exchanges (IX). For more information on ORIX USA, visit http://www.orix.com.
About Community HousingWorks
Founded in 1982, Community HousingWorks (CHW) is a nationally-recognized 501 (c)(3) non-profit organization that helps people and communities move up in the world by providing opportunities to own, rent, and achieve. Our non-profit realty and lending services combined with homeownership classes & coaching help people own; the beautiful, safe, and green communities we build and operate provide homes that working families can afford to rent; and our financial classes & coaching, academic supports for youth, and leadership supports help people achieve their goals. CHW has a successfully developed over 1,700 apartments in over 30 multi-family affordable rental communities, and rehabilitated single-family homes for resale in urban, suburban and rural communities across Southern California, making over 2500 new homeowners. Through our comprehensive programs offered on-site and to the greater community, we proudly serve more than 8,000 people each year, supporting next-generation school success, financial capability, and home stability. CHW is San Diego County's only member of the national NeighborWorks Network®, a founding member of the Housing Opportunities Collaborative, an award-winning affiliate of the National Council of La Raza, and member of the prestigious Housing Partnership Network.