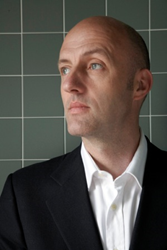 Düsseldorf, Germany (PRWEB) October 01, 2014
Insel Hombroich Museum, an internationally renowned art center located in an extensive park area in Germany's Rhineland, is known for combining landscape, art, and architecture into a fascinating visitor experience. As of October 1, it will have a new Director after a findings committee selected Frank Boehm.
Boehm will move to Germany's Rhineland from his most recent position as advisor for the "Deutsche Bank Collection Italy" in Milano. He has realized various architecture and exhibit projects from Milano since founding studioboehm there in 2000. Other recent projects include: Director of MiArt (Trade show for Modern and Contemporary Art in Milano) in 2012; professorship of "Museum Curating and Exhibition Design" at the Universitá IUAV di Venezia from 2004-2009; and many international teaching assignments and regular writing contributions to art publications such as "Frieze" and "Casabella."
"I am excited to become Director of Insel Hombroich Museum, a place for art that is unique in an international context. It is a great privilege to continue such a visionary project along with its team and resident artists," says Boehm.
"I am confident that Frank Boehm will help us refine Insel Hombroich's profile even more with his experience and skills," says the museum's chairman, Professor Oliver Kruse.
The Insel Hombroich Museum was founded by art collector Karl-Heinrich Müller (1936 – 2007) in 1987, inspired by impressionist Paul Cézanne's tenet: "art in parallel to nature." In 1997, Müller founded the Stiftung Insel Hombroich, combining the Museum Insel Hombroich, the Kirkeby-Feld, and the Raketenstation Hombroich, a former Nato missile base, and transformed the site into a place of culture, education, and nature.
For more information on Insel Hombroich Museum, please visit http://www.inselhombroich.de.
For more information about Düsseldorf, please visit: http://www.visitduesseldorf.de.
# # #
Düsseldorf Marketing & Tourism GmbH is the visitors and convention bureau of the city of Düsseldorf. Its responsibilities include tourism and city marketing, as well as conference and meeting marketing, hotel reservation services, fairs and convention services, city event ticket sales and advance ticket reservations. For more information, visit http://www.visitduesseldorf.de.
Düsseldorf Airport, Germany's Next Generation HubTM, offers several non-stop flights from US & Canadian cities (Atlanta, Chicago, Ft. Myers, Los Angeles, Miami, New York, Newark, Toronto), as well as convenient connections to many European cities. For more information about the airport, visit http://www.dus.com.