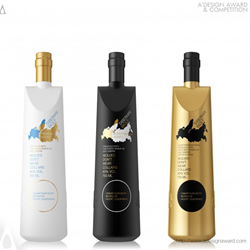 Como, Italy (PRWEB) October 02, 2014
A' International Design Award and Competition is pleased to announce that the project Siberian Wolf Vodka by Guilherme Jardim has been acknowledged with the famed Golden A' Design Award in Packaging Design Competition.
Regarding Siberian Wolf
Guilherme Jardim, the creator of the awarded design Siberian Wolf explains "We designed an exclusive bottle for this brand. The goal was to create a modern cosmopolitan brand that would appeal to a young vodka consumer which expresses a Siberian feeling. The brand name is Siberian Wolf. In one color you can see the western part of Russia and in other color you can see the Siberian part. The world is present on the top of the map. The slogan is "Wolves don't wear collars", appealing to freedom. The shape of the bottle is elegant but highly modern. The entire design aims to express the feeling of modern Russia. The range is composed by a premium edition (blue), a super premium edition (black) and a limited edition (gold)." Learn more at: http://www.adesignaward.com/design.php?ID=29373
Design Team for Siberian Wolf Vodka
Siberian Wolf Vodka was designed by Guilherme Jardim, Pedro André and Vladimir Pospelov
The Golden A' Design Award
The Golden A' Design Award is a prestigious award given to top 3% percentile designs that has achieved an exemplary level of perfection in design. Entries to the A' Packaging Design Award are peer reviewed and anonymously judged by an expert jury panel of scholars, design professionals and press members. Laureates of the A' Packaging Design Competition are given the coveted A' Design Prize which includes extensive PR, publicity and marketing services such as World Design Consortium invitation in addition to the award trophy, yearbook, international exhibitions, award winner logo licensing, design excellence certificate and invitation to the gala-night and award ceremony in Italy.
About A' Design Award and Competitions
Established in 2009 in Italy, the A' Design Award and Competition shortly became the World's largest and most international design accolade with participation from all countries. Given this unique role, the A' Design Awards annually publishes the World Design Rankings. The ultimate aim of the A' Design Award & Competition is to highlight and promote best design projects worldwide in order to create a global appreciation and awareness for good design. Learn more about the A' Design Awards at: http://www.designaward.com