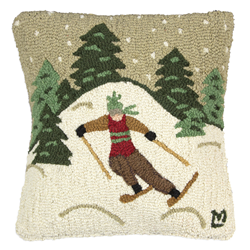 We wanted to add more Christmas themes before the holiday season arrives in full swing
Manchester Center, Vermont (PRWEB) September 30, 2014
When it comes to the Christmas season, preparation is the name of the game. While Santa's across the world are writing their lists, Chandler 4 Corners is preparing by adding additional holiday designs by Laura Megroz to their line of Personalized Pillows.
"The personalized options have become very popular," said Henry Chandler, president of Chandler 4 Corners, "We wanted to add more Christmas themes before the holiday season arrives in full swing. The hand-hooked wool designs require a lead time of 4-5 weeks before they're ready," he added.
The "Out of Bounds Skiing" and "Christmas Morning Black Lab" are two several new designs added to the personalized throw pillows collection. Each heirloom quality pillow can be customized with up to 11 characters of text, just right for a family name, or a favorite winter destination.
Chandler 4 Corners, based in Manchester Center, Vermont, has been offering fine, artisan-inspired pillows, rugs and home accents since 1991. Through the talents of experienced designers, including Laura Megroz, Poppy Gall, Julya Chapman and Drew Dunnigan, the company's wool and cotton home textiles and rustic furniture make an emotional connection by evoking a simpler, more carefree time. Chandler 4 Corners sells to fine retail shops, leading catalogs, and individuals across the country. For more information, visit chandler4corners.com.