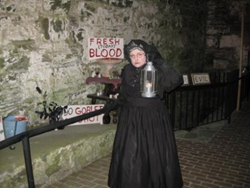 FEAR at Fort Adams takes your every fear and multiplies it for Halloween.
Newport, RI (PRWEB) October 01, 2014
Take a walk through Fort Adams for a guided tour during the week and the feeling will be one of historic significance and awe at the beautiful views. Fast forward a few hours into the night, and when the darkness sets in a walk through the Fortress takes on an entirely different feel. FEAR at Fort Adams, formerly Fortress of Nightmares, takes your every fear and multiplies it for Halloween.
Dave Prata, Fort Adams Trust Board Member and FEAR at Fort Adams Producer notes, "This year is our 10th year doing FEAR at Fort Adams. In honor of this milestone we want to take people behind the scenes in so you know what goes into it. Each year we try to figure out how to make FEAR different from the previous years and, of course, scarier! Even the staff gets spooked walking through the Tunnels of Terror, and they've seen all there is to see behind the scenes. I think that speaks for itself in regards to both the space we have here and the time and effort put in to increase the element of fear and surprise."
"This week the focus has been on getting the Tunnels of Terror done, which sounds easy because the Fort already has the tunnels built in, but most people would be surprised by the labor. We like to assemble it as a maze, so building that has taken quite a bit of our time recently," continues Prata. "The final product is coming together nicely and I can't believe we're less than two weeks away!"
"The preparation for FEAR at Fort Adams gets more labor intensive each year," adds Director of Visitor Experience Rob McCormack. "We are lucky to have a dedicated group helping us achieve a frightening finished product. My favorite part of the whole thing is hearing people who come year after year rave about the improvements each season."
"We definitely recommend this event for ages 12+. If you've got any pre-existing medical conditions, please think twice about coming. After all, this is about scaring you. And remember, there is quite a bit of walking," finishes McCormack.
Fortress of Nightmares has become a staple in Newport for the Halloween season. For general information and tickets go to fear.fortadams.org.
About the Fort Adams Trust
The Fort Adams Trust is a 501 (c)(3) non-profit responsible for preservation, programming, and promoting the National Historic Landmarks in Fort Adams State Park in Newport, Rhode Island. Over 100,000 people tour the Fort and attend events in the Park annually. The Trust accepts donations to support its preservation and programming missions – and all revenue from FEAR at Fort Adams goes into restoration and preservation of this exciting place.
http://www.FortAdams.org
About Newport, Rhode Island
Newport, often called the City by the Sea, is also referred to as "New England's second global city." In addition to the incredible historic destinations and cultural activities, great restaurants and shops, and unrivaled scenic beauty, there is a cosmopolitan sophistication to the City. International visitors abound and you can hear multiple languages on the streets. http://www.discovernewport.org