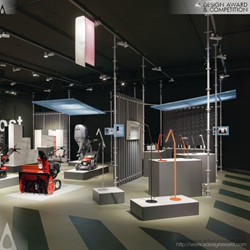 Como, Italy (PRWEB) October 02, 2014
A' International Design Award and Competition is pleased to announce that the work dieForm by Jérôme Gessaga, Christof Hindermann and Reto Welz won the famous Golden A' Design Award in Interior Space and Exhibition Design Category.
More information on dieForm
Gessaga Hindermann, the team leader of the awarded design dieForm says, "It is both the design and the novel operational concept that make the "dieForm" exhibition so innovative. All of the products of the virtual showroom are physically on display. Visitors are distracted from the product neither by advertising nor sales staff. Additional information about each product can be found on multimedia displays or via QR code in the virtual showroom (app and website), where the products can also be ordered on the spot. The concept allows an exciting range of products to be showcased while emphasising the product rather than the brand." Learn more about the award winning design: http://www.adesignaward.com/design.php?ID=29384
Creative Team for dieForm, stilhaus Rothrist
dieForm, stilhaus Rothrist was designed by Jérôme Gessaga, Christof Hindermann and Reto Welz
The Golden A' Design Award
The Golden A' Design Award for Exhibition Design is an internationally recognized, prestigious accolade given to top 3% designs that demonstrate exceptional design qualities. Entries to the A' Exhibition Design Award are peer reviewed and anonymously judged by an expert jury panel composed of press members, design professionals as well as scholars. Laureates of the A' Design Award & Competition are provided the coveted A' Design Prize which not only includes the award trophy, yearbook, certificate but also exclusive PR and marketing services such as invitation to a glamorous gala-night and award ceremony in Italy, participation to international exhibitions, inclusion in Salone del Designer and World Design Rankings as well as networking and publicity through prime clubs.
About A' Design Award and Competition
The A' Design Award & Competition was established to advance the design profession by highlighting the best examples of original and innovative creative work. The A' Design Accolades are annually organized in over hundred design competition categories and entry is open to all countries. The ultimate aim of the design competition is to create a global appreciation and understanding of good design: Learn more about the A' Design Awards at http://www.whatisadesignaward.com