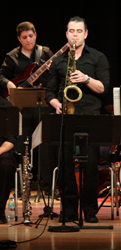 Sunny Isles Beach, Florida (PRWEB) September 30, 2014
The City of Sunny Isles Beach presents the sixth year of the Four Seasons Cultural Series, with the Florida International University (FIU) Jazz Big Band, directed by Jim Hacker. The group will perform at Heritage Park (19200 Collins Avenue) at 6:30 pm on Sunday, October 12, 2014.
The Band will perform a full program featuring such favorites as Angel Eyes, All of Me and Freedomland, as well as a special song for retiring Mayor Norman S. Edelcup. Take advantage of the warm fall weather and spend an evening in the park enjoying wonderful music. Bring the entire family and bring chairs or blankets to sit on and relax beneath the stars on the great lawn. If stomachs begin to rumble along with the tunes, food and beverages are available to purchase. This performance is free and open to the public.
Florida International University and the City of Sunny Isles Beach enjoy a unique partnership of cultural exchange. To the delight of residents in the City, the students and faculty of the university's music department show off their talents at various City venues throughout the year. This ongoing cultural series will be presented four times this year and includes the FIU Jazz Big Band, the Amernet String Quartet (FIU Quartet in Residence), the FIU Orchestra and the FIU Broadway vignettes performed by theatre students. Though the performers are students perfecting their craft, each performance is world class.
Selected performances are free and open to the public. Other shows are free to residents presenting a SIB Resident ID Card and a nominal fee is charged to those without a SIB Resident ID Card.
Free parking for the October 12th event will be available at the Heritage Park parking garage, as well as under the William Lehman Causeway. The Special Events Shuttle Bus will transport residents to and from the event. For event information, please contact the Cultural & Community Services Department at 305.792.1706.