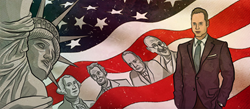 Jersey City, New Jersey (PRWEB) September 30, 2014
Riding the crest of success, The JTB Law Group, LLC is giving back to the community. The head of the firm Jason T. Brown was recently named as a Top 100 Trial Lawyer in the country by The National Trial Lawyers and Top 10 in the state by various other organizations. In giving back to the community the firm sponsored a youth soccer team in Jersey City, New Jersey which just kicked off the soccer season in September. The firm also helped with pro-bono services, and in September donated to certain breast and prostate cancer causes.
Jason T. Brown stated, "We work hard litigating for people every day. Lawsuits are pieces of paper, but the people they speak for go through so many challenges. To donate money to fight cancer is a worthy cause. On a different level sponsoring a soccer team and bringing happiness to children is contagious when you watch their youthful exuberance."
Despite the firms' kind soul, the firm is firm and vigilant in its lawsuits and at the forefront in fighting for peoples' rights with its lawsuits on behalf of employees who are not paid proper wages or overtime compensation. "It's incredible to watch Mr. Brown litigate," Associate Zijian "Coco" Guan stated, "sometimes when he files cases for peoples' wages the companies just fold and pay the money right away without even a fight. With the economy bad, many employers short employees money and we work to get them their money back and are only paid if we win, so we work hard to win."
The firm also handles mass tort litigation and has filed cases on individuals who have TVM (Trans Vaginal Mesh) implants, people who allegedly have had bladder cancer from Actos, women who have allegedly suffered a deep vein thrombosis, pulmonary embolism, or stroke, from Yaz, Yasmin, Ocella, Gianvi, Beyaz and Safyral, individuals who have had an allegedly defective metal on metal hip or metallosis from Depuy, Zimmer, or Stryker, and alleged injuries from the blood thinner Xarelto. The firm has operators 24/7 at toll free (844) JUSTICE or (877) 561-0000.
The JTB Law Group, LLC is located in Jersey City, New Jersey and has its web presence at http://www.IFightForYourRights.com. This press may be considered attorney advertising and past results don't guarantee future successes.