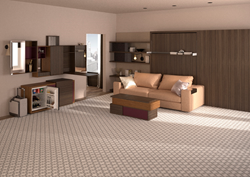 A small yet smartly designed hotel suite can not only be luxurious, but can also provide all the comfort, spaciousness, and boutique hotel amenities today's demanding traveler requires.
New York, NY (PRWEB) October 01, 2014
Resource Furniture, North America's largest retailer of space saving furniture, will present Hotel Resource, an innovative, luxury hotel micro-suite that will be revealed at Dwell on Design New York, October 9-11 at 82 Mercer Street. The 240-square-foot hotel micro-suite was designed by Resource Furniture to demonstrate how a small yet smartly designed hotel suite can not only be luxurious, but can also provide all the comfort, spaciousness, and boutique hotel amenities today's demanding traveler requires, including an eight-foot reclining sofa, work space, mini-bar, media center, and conference/dining facilities for up to six people.
With the average luxury U.S. hotel suite estimated to be 600 square feet, excluding the bathroom, Hotel Resource shows how the same comfort, high-end amenities and features found in these luxury suites can be easily provided in less than half of that amount of space.
Among the exclusive new products debuting at Dwell on Design is Tango, the latest sofa/wall bed innovation from Clei; Smart Living, a revolutionary new media center that conceals a dining/work table plus seating for six; and the Kinetic Collection – a unique collaboration between award-winning, Brooklyn-based design studio Think Fabricate and Resource Furniture.
Designed for both hospitality and residential applications, Kinetic is an exciting new collection of high-end, innovative, multifunctional furniture not previously available in the market. Proudly designed and made in Brooklyn, each piece is obviously beautiful, secretly clever and profoundly functional. The first three Kinetic pieces that will debut at Dwell on Design New York are Lift, Hide & Seek and Slide, and together they transform Hotel Resource into the home-away-from-home every boutique hotel guest is looking for.
Lift is a perfectly proportioned coffee table designed to function as a work station and storage space for remotes, laptops and magazines. Hide & Seek is a modular, customizable, wall-mounted cabinet system that cleverly conceals a wide variety of functions. For this installation, Hide & Seek contains a bar, an espresso maker, and an ironing center. Completing the room is the Slide, a beautifully crafted credenza with a secret mini refrigerator and storage drawers.
The Tango modular sofa/wall bed system features dual reclining sofa seats and the finest Italian upholstery. With a wide variety of available components, Tango is making its North American debut as the latest multifunctional furniture innovation from Clei, the global leader in transformable furniture design for more than 50 years. The result of years of research and development, Tango features a high-end, modular sofa and hidden queen wall bed. Resource Furniture will also unveil the freestanding Smart Living media system, which cleverly conceals a complete dining set/work space for six behind the rotating television panel.
# # #
ABOUT DWELL ON DESIGN NEW YORK
October 9-11, 2014, Dwell Media officially adds New York City to its roster of marquee events establishing Dwell on Design as a true coast-to-coast festival of modern design, upending the standard "design show" format by constructing a forum for unique ideas and a fresh point-of-view. Dwell on Design NY will dive deep with commercial designers, architects, and manufacturers to tackle "hot buttons" that are rapidly evolving within the world of contract design: Hospitality Venues, Learning Spaces, Public Spaces, and Urban Infrastructure
Ongoing onstage discussions with industry experts are one of the cornerstones of the three-day event, including "Living Large in Small Spaces" on Saturday, October 11 from 4 p.m. – 5 p.m. The Living Large in Small Spaces panel will include David Friedlander, whose apartment was featured in the September 2014 issue of Dwell, Sarah Watson, Deputy Director of Citizens Housing & Planning Council, a nonprofit research and education organization advancing practical public policies to support NYC's housing and neighborhoods since 1937, and architect Michael Chen of Normal Projects.
ABOUT RESOURCE FURNITURE
For more than 15 years, Resource Furniture has offered the most inspired and innovative furniture solutions available in the world. With a commitment to providing support and sponsorships of game-changing non-profit and educational initiatives, Resource Furniture is redefining the way consumers and designers think about space, and is now the largest and most comprehensive source for cutting-edge, multi-functional living systems in North America. Showrooms in New York, Los Angeles, Toronto, Vancouver, Calgary, Mexico City, San Francisco (opening January 2015) and Montreal (opening January 2015) resourcefurniture.com
ABOUT THINK FABRICATE
Think Fabricate is a multi-disciplinary design studio dedicated to exploration of function, detail, and character in their work. They are proud to bring the human element, genuineness, appreciation of material, and the inclusive spirit that grows from their Brooklyn roots to their collaborative design process. They design and create at many scales, from furniture and products; to residential interiors, branded environments, and public art installations. They are known for their love of color and material palettes; playful yet carefully resolved compositions; meaningful visual motifs; and modern forms. They enjoy embarking on design challenges together with their clients and customers. Think Fabricate has designed solutions for better living, learning, and community since 2009. ThinkFabricate.com
# # #
CONTACT INFORMATION
Resource Furniture
Laura Anderson
212-753-2039
laura(at)resourcefurniture(dot)com