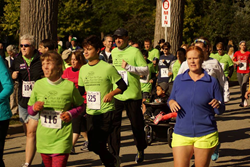 4 out of 10 kids are without insurance, so there is a huge need to help pay for these therapy programs. We want to make sure every kid gets screened properly, and has access to speech therapy. The ability to speak is something we all take for granted.
(PRWEB) September 30, 2014
Earlier this month, Elmhurst Toyota was proud to sponsor the Talkie Trot 5k Walk and Run. The event was originally founded seven years ago as the Brianna and Friends Walk to Talk by Former Mayor of Elmhurst and now Chairman of the event, Pete DiCianni in honor of his daughter. Proceeds from the event benefit children with special speech and language needs, and fund special therapy programs at the Center for Speech and Language Disorders (CSLD) in Lombard, IL. The Talkie Trot is a fun family event with participants of all ages-- from grandparents out walking with their families, to moms with their babies in strollers, and every age in-between.
In total, this year's fundraising event brought in $35,000 to benefit the programs at CSLD. Pete explained the importance of the fundraising campaign, and how it impacts the access that many children have to speech and language therapy programs, due to the lack of legislative laws at a federal level. Because of this, organizations like CSLD rely heavily on independent funding.
"4 out of 10 kids are without insurance, so there is a huge need to help pay for these therapy programs. We want to make sure every kid gets screened properly, and has access to speech therapy. The ability to speak is something we all take for granted—it is something that is so very important to succeed in life.
"A special thanks to our great sponsors," Pete continued, "Kurt is always very generous. Elmhurst Toyota was an Empowerment Sponsor, the highest level that we have. If it wasn't for them, the event wouldn't have been as big of a success. Their generosity helps so many of our kids."
Pete's vision was to expand the event to allow for growth, and a greater fundraising impact for the Center of Speech and Language Disorders, and thus, the Talkie Trot 5k Walk and Run was born in 2013. This year's event was the largest and most successful yet, with 350 participants—broken down to about 300 adults who ran in the 5k plus 50 kids who did the 1 mile Kids' Dash.
"We had walkers, runners, and across the board, record numbers," Pete explained. "Watching the kids' dash was fun. Seeing the kids get all juiced up about running-- they really enjoyed it. We had the Jesse White Tumblers, and Joe Newton, U.S. Olympic Track and Field Coach as the official starter for the race. It was our best year yet, and we exceeded all of our goals."
"Our after party at HB Jones was also a big success. We had live entertainment from Second Time Around, a 70s-80s classic rock cover band. It was a great time all around," Pete continued.
Top male runners who participated in the 5k included Jim Grabowski in first place with a time of 20:33, followed by ABC News reporter John Garcia in second, and Todd Mick in third. Top female 5k runners were Maria Lindberg with a time of 18:46 in first, followed by Lauren Heck in second, and Jennifer Jones in third.
"I am so proud to be the Chairman of the event, and to be raising money for a great organization," Pete concluded. "CSLD is an organization that has had a great impact on our family. Years ago, my daughter, Brianna, was an autistic 3 year old who was also non-verbal. She learned sign language to communicate, and through working with CSLD, she became more communicative and has now become more social. Today, she is a 5th grade main stream student, and many would not even know she has autism because of the Center. We want to make sure every child has that same opportunity."
About CSLD
The Center for Speech and Language Disorders is a non-profit organization with offices in Lombard and Chicago. Our mission is to help children with communication disorders reach their full potential through family centered services. CSLD's service delivery is set apart from its counterparts because each client benefits from an individualized relationship with their therapist. We recognize that one type of treatment does not fit all children, or all disorders. Each therapy plan is created based on the personal needs of the child and all therapeutic methods are research based and thus decisive and sound.
We have a unique understanding of how speech and language skills change throughout a child's life. Early treatment might focus on the child's first words or their efforts to show their wants or needs. But as s/he grows older, CSLD helps the child use speech and language for telling stories, understanding concepts and academic learning.
To learn more about CSLD, the children we serve, and how we can help you or someone you care about, visit our website at http://www.csld.org.
About Elmhurst Toyota
Elmhurst Toyota Scion is a family-owned and operated dealership with a 45-year history of serving Chicago and the surrounding suburbs. As one of the largest Toyota and Scion dealers in the Midwest, we have a great selection of new and pre-owned cars, trucks, vans and SUVs. Our expert sales consultants will make your shopping experience easy and fun. If you're looking to finance your next vehicle, never fear; our Finance Managers are seasoned veterans who will get you the best rates and coverage with the least amount of hassle. Our award-winning Service Department can take care of anything from oil changes to major repairs to keep your vehicle running smoothly, and our Parts Department is second to none in providing quality Toyota parts and accessories for a great price.