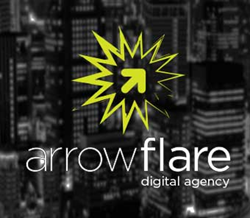 Affiliate Marketing has been able to Launch Many Businesses to the Next Level
(PRWEB) October 02, 2014
Discovery for your service and product are vital in a world of robust competition. Trusted sources referring consumers to purchase a product or join a service has always been a great way for companies to reach new clients. Traditionally this is done by word of mouth, dropping off brochures, flyers, business cards, etc. However, we find ourselves in a new digital era where these tactics are outdated. ArrowFlare Digital Agency has just expanded its wide range of services to include "affiliate marketing" as a new feature for their clients. This is the new and improved online marketing technique that puts word of mouth and conventional referrals in the dust.
Bo Bennet, an expert in the industry, keeps it simple when he explains the capabilities of affiliate marketing. "Affiliate marketing has made businesses millions and ordinary people millionaires," says Bennet.
Affiliate marketing is different from the traditional relationship based referral marketing because it is strictly pay for performance. In the online world a person who is referring someone to buy a product or join a service is knows as an "affiliate." A company advertising their service or product through an affiliate is known as the "merchant." Then there is the advertising agency, which is a team of professional marketers who design and optimize ad campaigns for the merchant in order to bring them the sales, online lead generation, and extra revenue they aim for. That is where ArrowFlare shines. By introducing their new affiliate marketing feature they have increased conversion rates for their new clients by 500%. A conversion rate is the ratio in percentage of people viewing the add to the amount of people proceeding to making a purchase or applying for a service. Typical conversion rates always vary, however the team of experts at ArrowFlare Digital Agency have been able to increase sales, online lead generation, and service applications by five times the amount their clients were generating before. Victor Azal, one of the owners of ArrowFlare, explains the secret behind their elevated results.
"In the affiliate marketing world, everything is about optimizing the existing. At ArrowFlare we never settle for good results, we strive for great results. Even when we have an offer converting amazingly, we know it will convert less with time, so while one campaign is running we are working on the next. That's the secret of it, hard work," explains Victor.
Online lead generation and product offers through affiliate marketing has been able to launch many businesses to the next level. It comes as a great low risk tool for merchants because they are paying based off of performance only. Merchants can choose to compensate the affiliates per click, per lead, per impression, per acquisition, or whatever form of compensation is most suitable for them. ArrowFlare Digital Agency has now helped to bridge the gap between merchants and affiliates increasing conversion rates across the board for several different industries with their new service.