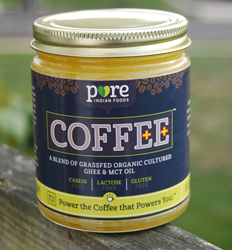 Coffee++ is the perfect solution for those looking to make butter coffee on the go. No more having to add two separate ingredients- ghee and MCT oil
Lawrenceville, NJ (PRWEB) October 02, 2014
Pure Indian Foods is pleased to announce their newest product, Coffee++, a cultured ghee and MCT oil blend. As the world's first ghee & MCT oil blend, Coffee++ simplifies paleo butter coffee, and it's made from the highest quality of grass fed organic cultured ghee.
With its 2:1 ratio of cultured ghee to MCT oil, Coffee++ provides the perfect solution for those looking to add healthy fats to their diet as a source of energy.
It can be easily enjoyed by adding 1-2 tablespoons to an 8-ounce cup of hot coffee, or for a frothier and creamier taste, Coffee++ and your cup of hot coffee can be blended.
"Coffee++ is the perfect solution for those looking to make butter coffee on the go. No more having to add two separate ingredients- ghee and MCT oil," said Sandeep Agarwal, founder of Pure Indian Foods. "By combining the two awesome ingredients in Coffee++, you can easily take the jar with you when you're on the go. Enhance your coffee with Coffee++ and have a double positive in the form of instant and long lasting energy."
Though the process of adding butter to your coffee has been common practice in India for quite some time, *Bulletproof® Coffee has recently become popular thanks to Dave Asprey, founder of The Bulletproof Executive. Those looking to maintain a paleo diet lifestyle can rejoice at the notion of adding ghee, MCT oil, or both to their coffee.
Butter coffee first thing in the morning is believed to increase mental sharpness while helping your body burn fat throughout the day. For those looking to grab breakfast on the go, butter coffee can act as a meal replacement, and can even help keep your hunger at bay. With Coffee++, you're able to Power the Coffee that Powers You!™
Pure Indian Foods is a leading online retailer for organic grass fed ghee made from non-homogenized milk. Agarwal is a 5th generation producer of ghee, with his great-great-grandfather opening a ghee business in northern India in 1889. For a variety of organic ghees, including several spiced ghees, visit Pure Indian Foods.
*Bulletproof® is a registered trademark of Bulletproof Digital, Inc.