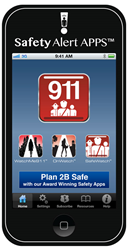 "As part of our company's overall mission to help keep students safer and prevent sexual assault, I encourage every state to take California's lead and create 'Yes Means Yes' legislation that can be signed into law."
Los Angeles, CA (PRWEB) September 30, 2014
Jill Campbell, CEO and Founder of Safety Alert Apps, Inc., the White House award-winning Smartphone Safety App technology development company, announced its support today of the newly signed California State Law 'Yes Means Yes'.
In making the announcement, Campbell said, "We applaud California for being the first state in the nation to require all of its state colleges to makes affirmative consent language a central tenet of school sexual assault policies."
Campbell continued, "The White House has declared sex crimes to be "epidemic" on U.S. college campuses. Our White House award-winning smartphone app OnWatchOnCampus® is helping students Plan 2B Safe armed with technology to prevent abuse and sexual assault. And, bringing a law to the ubiquitous problem of sexual assault -- whether it be on a College campus or in the NFL, is a key way we will be able to make a lasting change in our culture."
Campbell concluded, "As part of our company's overall mission to help keep students safer, I encourage every other state to take California's lead and pass 'Yes means Yes' legislation that can be signed into law."
OnWatchOnCampus(R), the company's White House award-winning app, was designed to combat the incidences of sexual assault on college campuses highlighted by Vice President Biden's initiative to help protect young women from violence on college campuses.
Safety Alert Apps turn a smartphone into a fully customizable multi-tasking emergency tool that immediately communicates critical incident information, in real time. The user is on the phone with 911/security team, campus police and friends while simultaneously preselected text and email alerts are sent with GPS location to multiple layers of first responders during the first seconds of any emergency. Safety Alert Apps, Inc., is a leading provider of Smartphone Safety Alert Applications, producing safety apps for the consumer and institutional markets.
To find out more about the company and all their products, visit http://www.SafetyAlertApps.com