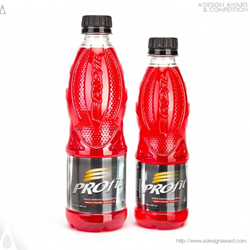 Como, Italy (PRWEB) October 02, 2014
A' Design Award and Competition is pleased to announce that the project PROfit Sport Drink Packaging by Jeff Klok has been awarded with a notable Golden A' Design Award at Packaging Design Competition.
More on PROfit Sports Drink Packaging
Jeff Klok, the lead designer of the awarded project PROfit Sports Drink said, "The new packaging for PROfit launched in early 2013 evolving the brand identity and concept from a standard container to a stand-alone iconic package that is aggressive, sporty, and modern. The packaging features a sport infused container with a highly reflective and clean label with ghosted attributes. Tying the two together is a hexagonal texturing feature on both label and container. " Learn more at: http://www.adesignaward.com/design.php?ID=29504
Team Members for PROfit Sport Drink Packaging
PROfit Sport Drink Packaging was realized by Lead/Industrial Designer: Jeff Klok, Graphic Designer: Luis Villalobos Jr. , Design Group Lead: Carlos Londono, Engineering Lead: Juan Milla and Toni, Brand Manager: Carlos Pozo
The Golden A' Design Award
The Golden A' Packaging Design Award is a prestigious award given to top 3% percentile designs that has exhibited an exemplary level of quality in design. Entries to the A' Packaging Design Awards are evaluated with score normalization on aspects such as functionality, ergonomics, engineering, presentation, innovation, usability, and technology by an expert, internationally influential jury panel of prominent academics, design professionals and media members. Laureates of the A' Packaging Design Awards are granted the coveted A' Design Prize which includes a series of public relations and marketing services such as inclusion in Designer Rankings, exclusive interviews, press release preparation and distribution services in addition to the award trophy, yearbook, exhibition, gala-night and design excellence certificate.
About A' Design Award and Competition
The A' Design Award & Competition was established to create a global awareness for good design through highlighting and promoting excellent design work. Each year, designers and companies from across the planet submit and compete with their best design ideas. The ultimate aim of the A' Design Contest is to push designers and brands worldwide to create superior products or projects that benefit society. Learn more about the A' Design Contest at: http://www.whatisadesigncompetition.com