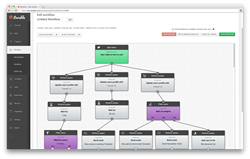 "We're extremely excited to use Workflows to design even more complex email programs and to begin A/B testing different series." -- Jonah Schwartz, CTO of Dot & Bo
San Francisco, CA (PRWEB) October 01, 2014
Iterable, the Spring '13 AngelPad startup with a multi-channel growth marketing automation platform for eCommerce companies, has launched Workflows. The new feature allows marketers to design highly personalized, multi-step email campaigns with minimal engineering help. Workflows users can also create and A/B test multi-pronged email campaigns to see which message series works best for maximizing conversions, revenue or other key metrics. It is an addition to the robust Iterable platform, which includes triggered and blast email support, email A/B testing, real-time subscriber segmentation, mobile email previews and deliverability management.
"Iterable already has a built-in tool for A/B testing any part of an email. Naturally, the next step was to create the ability to A/B test different series of emails. Traditional drip campaign builders can only create linear workflows with no ability to skip certain steps or to test different flows to see which is the most effective. We decided to fill that gap to help make email simpler and more effective for marketers," says Justin Zhu, CEO of Iterable.
Workflows includes a drag-and-drop editor for designing drip campaigns, which are launched by a trigger such as a newsletter signup, shopping cart update, purchase or other custom event. Users can also add in time delays and filters, which ensure that only subscribers who fulfill certain criteria will move on to the next step. In addition, Workflows includes many built-in safeguards such as automatically preventing subscribers from entering a drip campaign more than once or being sent too many emails within a two hour period.
What Iterable clients are saying:
"Finally, an email marketing platform that's easy to use yet powerful at the same time. If you're a non-technical marketer, Iterable allows you to run marketing experiments, split tests, customized batch emails, and list segmentation without bothering your developers," says Kristoph Matthews, CEO of Boxbee. "If you're a developer, the API is sophisticated enough to build complex algorithms to maximize the efficiency of your lists. This combined with stellar customer service and emails that look beautiful no matter what device you're using makes Iterable our email platform of choice."
"We've been using Iterable to launch our multi-step shopping cart abandonment and welcome series campaigns. Both email series have proven to be highly engaging and lucrative," shares Jonah Schwartz, CTO of Dot & Bo, a popular online home furnishings retailer. "We're extremely excited to use Workflows to design even more complex email programs and to begin A/B testing different series."
About Iterable:
Co-founders, Justin Zhu and Andrew Boni, got the idea for Iterable during their previous positions at Twitter and Google, where they saw, firsthand, email's effectiveness in driving revenue and user growth, but also the difficulty in creating truly engaging messages. Why must it be so hard for marketers to launch personalized campaigns or to perform email A/B testing without technical support? In response, they decided to build a comprehensive marketing tool that is both super easy for engineers to integrate with existing systems and for non-coders to create advanced email campaigns that stand out in the inbox and really engage the end user. To learn more, visit Iterable.com.