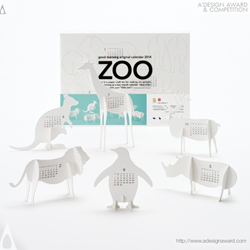 Como, Italy (PRWEB) October 31, 2014
A' International Award and Competition is pleased to announce that the Calendar design "ZOO" by Katsumi Tamura wins the Golden A' Design Award in Graphics and Visual Communication Design Competition.
About the Calendar 2014 "ZOO"
Katsumi Tamura, the creative mind behind the awarded work Calendar 2014 "ZOO" said: "The ZOO paper craft kit is an easy to assemble calendar design, no glue or scissors needed for its assembly. Each animal figure becomes a two-month calendar. " Learn more about the award winning design: http://www.adesignaward.com/design.php?ID=29511
Design Team for ZOO
ZOO was created by Art Director: Katsumi Tamura, Designer: Hiroyuki Fukazu, Designer: Kohei Miyasaka, Designer: Takahiro Sugawara and Copywriter: Toshiyuki Nagamatsu
The Golden A' Design Award
The Golden A' Graphics Design Award is a prestigious award given to top 3% percentile designs that has delivered an exemplary level of excellence in design. Entries to the A' Graphics Design Award are peer reviewed and anonymously judged by an expert jury panel of established scholars, design professionals and media members. Laureates of the A' Design Awards are provided a series of PR and marketing services such as exhibition of their works in MOOD - Museum of Design in order to celebrate the status of winning the accolades. Award winning designers also receive the design excellence certificate, hardcover yearbook, 3D printed metal award trophy as well as lifetime license to use the "award winning design" logo.
About A' Design Award and Competitions
Since its establishment in 2009, the A' Design Award & Competition has quickly become the World's largest and most international design competition with entries from all countries. The primary aim of the A' Design Award and Competition is to create a global awareness and appreciation for good design through promotion of excellent design works and products. The ultimate aim of the A' Design Awards is to push designers and brands worldwide to come up with superior products or projects that benefit society. Learn more about the A' Design Competition at http://www.whatisadesignaward.com