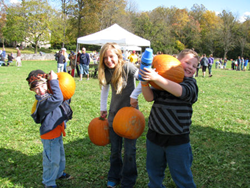 Pumpkin Festival features a pumpkin-chucking trebuchet. A horn is blown just before each pumpkin is launched, and spectators love to see how far they fly!
Waynesboro, PA (PRWEB) September 30, 2014
The Franklin County Visitors Bureau is proud to announce the 21st annual Renfrew Pumpkin Festival on Saturday, October 18 from 11 a.m. to 4 p.m. at Renfrew Park in Waynesboro, rain or shine.
The festival includes a full day of activities and fun for all ages. Mr. and Mrs. Pumpkin will greet visitors, who will enjoy bluegrass music by Little Sister Band, pumpkin carving, games and other activities during the festival, which is a joint fund-raiser for Renfrew Institute and Renfrew Museum.
New this year, Bobby Bingaman's Barrel Train will take kids on free rides through the park. "We're excited to offer the barrel train this year," said Maxine Beck, festival co-chair. "Kids love the train, and it's a great way to visit some of the trails in the park."
The ever-popular trebuchet will run throughout the day. Trebuchets—giant catapult devices—have their origins in the middle ages.
"Trebuchets like ours hurl pumpkins, and are great fun," said Beck. "Our trebuchet was constructed by volunteers who researched the devices thoroughly to create an authentic working model. A horn is blown just before each pumpkin is launched, and spectators love to see how far they fly."
The corn toss game, pumpkin bowling, and pumpkin ping-pong are fun for all ages. Kids will enjoy face painting, and a "corn kernel station" provides a sandbox-like activity with a pool full of dried corn kernels. Tractor-drawn hayrides and photo board setups add to the fun for all.
The scarecrow-making workshop is always popular. Participants are encouraged to bring their own long-sleeve shirts and pants. Some clothes will be provided, but may run out during the event. Scarecrow clothing donations are welcome.
"Used clothing in sizes from children's large to adult small is best for making the scarecrows," said Beck. Straw and instructions are also provided.
A full lunch is included in the price of admission—soup, fresh bread, cider and sliced apples. A choice of homemade soups is offered, traditional ham and bean and vegetarian vegetable.
Hot dogs, soda and coffee will be sold separately. In addition, a bake sale offers a variety of homemade goodies.
Pumpkins will be available for purchase, priced by size. A team of pumpkin artists will be on hand to help guests carve their pumpkins during the festival. Safe carving tools and adult supervision will be provided. Decorative Indian corn bundles will also be sold.
Ed Miller, long-time caretaker of the Renfrew property, will be available to sign copies of his book, Breakfasts With Ed. The book costs $15, and all profits go to Renfrew Museum & Renfrew Institute.
Admission is $8 for adults, $4 for children ages 4 to 12, and free for children age 3 and under. Cash or credit cards accepted. Renfrew Museum will hold an "open house" for tours from 11 a.m. to 4 p.m., included with admission to the festival.
The event is underwritten by M & T Bank.
Parking is available adjacent to the Visitor's Center barn, with some additional parking in Renfrew's lower lot off Welty Road. A golf cart will shuttle those who need assistance from the parking area to the festival grounds.
The Franklin County Visitors Bureau is the gateway to art, history, recreation, and hospitality in Franklin County, PA. For more upcoming events: http://www.ExploreFranklinCountyPA.com or http://www.DoDineStayFranklinCountyPA.com or call 866.646.8060.