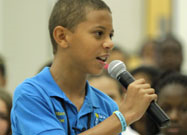 I want to be the voice to reduce fears and offer encouragement. I want to be the voice of change across the world
New York, NY (PRWEB) September 30, 2014
World of Children Award will honor 14-year-old Jaylen Arnold of Tampa, Florida – founder of the nonprofit, Jaylens Challenge Foundation, Inc. – in New York City on November 6, 2014, for his work to end childhood bullying.
Bullies often target children who appear to be "different;" Jaylen Arnold, founder and official spokesperson of Jaylens Challenge Foundation (jaylenschallenge.org), was targeted at an early age. He became the victim of bullying by classmates who made fun of his vocal and motor tics - symptoms associated with his challenging battle with Tourette Syndrome. Jaylen also suffers from Asperger's Syndrome (broad spectrum Autism).
"I had friends who were bullied too; we were all too afraid to speak up," said Jaylen. "I decided there was another way to stand up for myself and I worked hard to start our Bullying No Way! campaign to speak not for just myself, but for others. I'm determined to end bullying in our schools."
Motivated by Jaylen's passion as an eight-year old, Jaylens Challenge Foundation, Inc. [a 501(c)(3) charitable organization] was organized. From the website design to the mission, the foundation is Jaylen's vision. Dedicated to promoting awareness and the prevention of bullying through education and community service, the non-profit, headed by the young teenager, is his inspiration and his dual mission is to educate people about bullying and to share his life experiences and difficulties.
Jaylen has appeared in a number of public and educational forums. His program and presentation highlights astonishing bullying statistics and incorporates education and direction from his personal recollections. The moving and inspiring program is complemented by school-wide assemblies, one-on-one meet and greets and the distribution of the official Jaylens Challenge inspirational anti-bullying book and motivational wristband.
"Bullying is a worldwide problem," Jaylen added. "I want to be the voice to reduce fears and offer encouragement. I want to be the voice of change across the world. The World of Children Award is humbling and helps me to know that I'm making a difference. That's exciting!"
The award recognition reinforces Jaylen's early success in achieving his goal; Jaylens Challenge has garnered widespread attention of national media (including CNN, Discovery Health, FOX, MSNBC, CBS, and NBC) and the support of Ellen DeGeneres, Katie Couric and screen actor Dash Mihok (who was diagnosed with Tourette's at the age of 6), in his noble cause and educational presentations.
"We are deeply inspired by the remarkable contributions our Honorees have made to changing the trajectory of children's lives for the better," said Harry Leibowitz, World of Children Award Co-Founder and Co-Chair.
Jaylen will use World of Children Award funds, associated with the award, to expand the outreach of his anti-bullying program. For more information on Jaylen Arnold or Jaylens Challenge, please visit: worldofchildren.org/honoree/jaylen-arnold
###
About World of Children Award
World of Children® Award improves the lives of vulnerable children by funding and elevating the most effective changemakers for children worldwide.
Since 1998, World of Children Award has granted more than $6 million in cash grants and program support to 100 humanitarian leaders who are the driving force behind programs serving children worldwide. The organization's exhaustive research and vetting of individuals has been hailed by leading philanthropic organizations. The media often refers to World of Children Award as the Nobel Prize for child advocacy.
World of Children Award has been featured on The New York Times, The Huffington Post, People, Town & Country, and Harper's Bazaar. World of Children Award Honorees have also been featured by The New York Times, CNN, The Ellen DeGeneres Show, Fast Company Magazine, People, Glamour, TEEN Vogue, TIME for Kids, USA Today and the Christian Science Monitor, among several other national and international media.
Most recently, The Huffington Post named World of Children Award's Co-Founders, Harry Leibowitz and Kay Isaacson-Leibowitz, one of the United States' most inspiring "power couples" for their lifetime commitment to improving the lives of vulnerable children around the world.