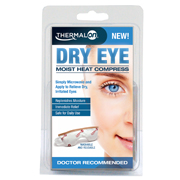 The new website and enhancements provide a superior user experience, while offering customers a wide range of reviews, articles and detailed information about Thermalon Dry Eye Compress
Alpharetta, GA (PRWEB) October 01, 2014
Thermalon, a leading provider of natural pain relief products, launched a new, educatioal website dedicated to its Dry Eye Compress. The new website is designed to provide education about the causes of dry and irritated eyes, and to illustrate the company's simple, natural solutions, which offer pain relief within minutes.
The new website features extensive resources which customers can browse for useful articles and information pertaining to natural pain relief in general, as well as the symptoms, causes and treatment of dry eye. The new design features enhanced navigational tools and the latest in mobile web design, for a seamless experience whether viewed on a PC, tablet or smartphone.
"The new website and enhancements provide a superior user experience, while offering customers a wide range of reviews, articles and detailed information about Thermalon Dry Eye Compress," says Sharon Burkart, Director of Marketing at Thermalon.
Thermalon is clinically proven to bring relief to dry, itchy and irritated eyes within minutes. The microwave-activated technology requires only 20 seconds in the microwave, followed by a 3-5 minute treatment. Thermalon has patented the technology and is the only eye compress that safely delivers doctor-recommended moist heat, for pain relief that is convenient, drug-free and environmentally responsible.
Thermalon Eye Compress is available in the Eye Care section of grocers, drugstores and supercenters nationwide. For more information about the Thermalon Eye Compress visit http://www.thermalondryeye.com or other Thermalon products visit http://www.thermalon.com.
####
About Thermalon
Our Thermalon brand utilizes patented technology to provide drug-free pain relief that is safe, proven effective and easy to use. We offer a variety of doctor-recommended moist heat therapy and cold therapy products tailored to needs that differ based on the source and cause of the discomfort. For more information on Thermalon Dry Eye Compress visit us at http://www.thermalondryeye.com and for information on other Thermalon products, visit us at http://www.thermalon.com.
Contact:
Sharon Burkart
888-827-8337 x210
sharon.burkart(at)thermalon(dot)com