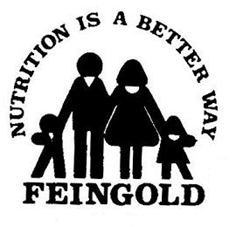 Orem, UT (PRWEB) September 30, 2014
Many people are aware of the physiological benefits that come from eating healthy food, but what most people don't consider are the mental benefits that come from replacing harmful additives with healthy food based ingredients. The Feingold Association puts the spotlight on how small changes in a child's eating habits can make a huge positive impact on behavior.
Founded in 1976 by Dr. Ben F. Feingold, The Feingold Association is a non-profit organization whose purpose is to generate public awareness of the role of food and synthetic additives in behavior, learning, and health problems. The program is specifically designed to help parents of children who have behavior and/or learning problems treat the symptoms associated with them.
Dr. Feingold, who passed away in 1982, was a former Department of Allergy Chief for Kaiser Permanente Medical Center and author and co-author of numerous publications and chapters in the field of allergy, immunology, and hyperactivity textbooks.
Discouraged parents often shared a similar frustration with medical care professionals when it came to finding the solutions their children needed.
"The people we looked to for help gave us lists describing our child's behavior, but we already knew how our child behaved; that's why we sought help. We were looking for solutions and instead we got descriptions and prescriptions. With the Feingold program, we saw that by simply switching the brand of cereal, or cookie, or mac & cheese mix we bought we could avoid the synthetic chemical additives that were at the heart of those sleepless nights and endless tantrums."
Research studies have shown the damaging effects that certain food additives can have, and that removing them can help the majority of children recover from those effects. The Feingold Association has been successfully helping hundreds of thousands of families combat these adverse effects through the implementation of their diet program.
NutriGold products were chosen by the Feingold Association because many of them are recognized as allergen free by an independent, third-party lab. NutriGold is pleased to have been added to Feingold's List of Approved Products for parents who want to address allergy and behavioral problems through healthier diet choices. Providing nutraceutical products made with organic, whole-food and clinically proven ingredients and without GMOs, artificial ingredients, preservatives, Stearates, Sulfates, Laurates and Dioxides, NutriGold is ahead of the curve when it comes to the long term physical and mental health of consumers.
For more information on the The Feingold Diet Program or to see a list or to review their Food List & Shopping Guide, visit http://www.feingold.org.
FREE SAMPLES
For free product samples of NutriGold supplements, please visit http://www.nutrigold.com/free-samples
ABOUT NUTRIGOLD
NutriGold is a science-based nutraceutical company committed to identifying, developing, and offering cutting-edge nutraceutical products. With a portfolio of best-in-class products at reasonable prices backed by unmatched service, NutriGold is not just raising the bar on quality, but is helping define the standards for the rest of the industry to follow and this is reflected in its:
+ Use of non-GMO, organic, whole-food, and clinically-proven ingredients
+ Uncompromising efforts to manufacture products without artificial ingredients, Stearates, Laurates, Sulfates, and Dioxides
+ Voluntary, extensive third party testing of all raw materials and finished products for identity, purity, potency, and safety
+ Resolute efforts to ensure that all products are free of contaminants, adulterants, allergens, and GMOs
+ Unwavering commitment to transparency, accountability, and truth in advertising
+ Initiatives to educate consumers so they can make informed decisions that affect their health
Website: http://www.nutrigold.com
Phone: 1-866-224-4680
Facebook: facebook.com/NutrigoldUSA
Google Plus: plus.google.com/+NutrigoldUSA
Twitter: twitter.com/Nutrigold_USA