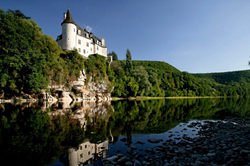 Reno, Nevada (PRWEB) September 30, 2014
Mirepoix USA, the leading online purveyor of gourmet foods has announced "Bordeaux and The Dordogne: An Epicurean Adventure", an exclusive 11-day luxury culinary tour in southwestern France, April 19 – 29, 2015. The tour is limited to 14 participants. Interested parties are advised to contact Mirepoix USA immediately.
Escorted by Mirepoix USA founder, Laurel Pine, "Bordeaux and The Dordogne: An Epicurean Adventure" is a unique, all-inclusive, small group luxury tour featuring exclusive tastings, meals at Michelin-starred restaurants, and accommodations at five star properties. According to Pine, "During the tour, participants will indulge in the pleasures of southwestern France, its exquisite restaurants, luxurious chateau living and magnificent wines. We will visit the vineyards, linger in medieval villages, explore the markets and follow man's prehistoric origins."
The tour will begin in Bordeaux with a city tour, where participants will sample some of the local food specialties for which Bordeaux is famous. Accommodations for the first three nights will be in Saint Emilion at a beautiful and well-located Relais and Chateaux property, Hostellerie de Plaisance. While in this region, the group will explore the medieval town of Saint Emilion and have a full day tour and tasting at Rémy Martin (including Louis XIII) in Cognac.
On day four, the group will travel to the Dordogne, and will spend four nights at Chateau de la Treyne, a castle overlooking the Dordogne River. While in the Dordogne, participants will visit Lascaux II, which replicates the famous cave paintings from 14,000 BC. Charming medieval villages such as Rocamodour and Saint Cirq la Popie, and Sarlat will be on the itinerary. The day in Sarlat will be during the world famous market where the region's specialties, foie gras and truffles, can be purchased from the market vendors or gourmet shops. A truffle-based lunch, and a tour and tasting at Rougie's world headquarters are also on the itinerary.
According to Pine, the last segment of the tour, features three relaxing days at Les Sources de Caudalie, a 5-star hotel and spa located just south of Bordeaux. Vineyard visits in the region will include tours and tastings at Chateau d'Arch and Chateau d'Yquem in Sauternes. Participants will sample some of the magnificent "reds" of Haut Medoc with tastings at several producers and dine at Chateau Cordeillan Bages (Michelin **).
The tour will conclude on April 29, however participants may extend their stay in Bordeaux, continue to another region of France, or return home. Possible extensions, that can be arranged include private tastings in Graves/Podensac at a Château such as Carbonnieux – La tour Martillac, and Haut Bailly and a drive to the coast, to Arcachon, to see the oyster beds, an oysterman's shack for fresh oysters & a cold glass of local white wine and a great seafood lunch.
The cost of the tour is $11,785 per person for 8-11 participants and $10,395 per person for 12-14 participants, based on double occupancy. The single supplement is $2995. Upgrades to suites are available at most properties at an increased rate; standard rooms are available at some properties at a reduced rate.
All itinerary designated items are included in the tour price, including all hotels, private tours and tastings, entrance fees to museums, licensed guides in each city, service charges and tips for meals, transportation in air-conditioned, 21-seat minibus, and two or three meals daily with premium wines.
For more information about "Bordeaux and The Dordogne: An Epicurean Adventure", an exclusive 11-day luxury culinary tour in southwestern France, April 19 – 29, 2015, please contact Laurel Pine at laurel(AT)mirepoixusa.com or 510-590-6693.
# # #
About Mirepoix USA
Mirepoix USA sources the highest quality specialty gourmet foods from manufacturers and importers across the United States. The company began marketing foie gras and other traditional French foods in 2004, and currently offers over 40 foie gras selections, fresh truffles, caviar, Wagyu beef, Iberico ham, domestic and imported cheeses, and a wide selection of gourmet food baskets and gourmet food. In 2012, Mirepoix USA began offering live tasting events in the US and food and wine tours in Europe and the US.