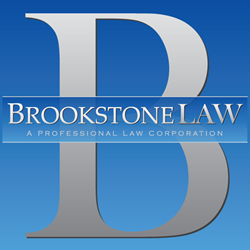 Irvine, CA (PRWEB) October 02, 2014
Brookstone Law has saved homeowners over $3.1 Million in Mortgage Principal Reductions from Bank of America, Wells Fargo, OCWEN & OneWest Bank. In just one case they were able to save $615,000 after six months, numerous phone calls and serious negotiations between Brookstone Law and Bank of America before borrower was finally approved for a Trial modification with a principle reduction of $615,787.10. (Manaoat v. Bank of America) Case No. BC556820 in Superior Court of the State of California, County of Los Angeles.
During the entire process Brookstone Law kept in touch with their client in order to answer all questions he may have while reassuring him that their attorneys and legal team will continue to fight on his behalf until they received a principle mortgage reduction for his home that was acceptable. They also ensured that their clients' case was kept under review by resubmitting and updating documents on a regular basis.
The attorneys at Brookstone Law were also able to assist another client who was 44 months past due on his mortgage payments with HSBC who finally agreed to forgive a principle balance of $70,142.83 and reducing the clients monthly mortgage payments to $1,742.97. HSBC has not previously participated in any principle reduction programs and with the legal assistance of Brookstone Law the borrower was lucky to receive a significant principle reduction on his loan. (Curry v. HSBC) Case No. 6:11-CV-963-ORL-36GJK in United States District Court Middle District of Florida Orlando Division.
At a time when the foreclosure crisis is causing millions of Americans to lose their home, homeowners are facing a daunting challenge when dealing with banks. Created by Brookstone Law to help consumers deal directly with an institutional bureaucracy that is biased against them, the Emergency Extension Department is a unique service not offered by any other firm that gives homeowners facing foreclosure a fighting chance to save their homes.
About Brookstone Law:
Based in Irvine, California, Brookstone Law, PC, is a law firm comprised of attorneys with experience and success in civil litigation, criminal defense, business, corporate, employment, entertainment & media, art & museum, intellectual property and real estate law. The firm employs highly trained specialists, paralegals, paraprofessionals and administrative staff dedicated to serving their clients. For information, call (800) 946-8655 or visit http://www.brookstonelaw.com.