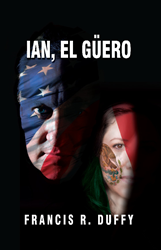 Believable characters, and explosive action, this book is one you won't put down until its dramatic conclusion.
(PRWEB) October 02, 2014
An amazing thrill ride of a book, "Ian, El Güero", by author Francis R. Duffy sinks its claws into you from the first page and doesn't let go.
With equal parts twisting and sharply-written plotlines, believable characters, and explosive action, this book is one you won't put down until its dramatic conclusion.
Ian Devereux is an ordinary guy—a schoolteacher who moves to Mexico with his beautiful, Mexican-born wife, Dinorah, and their daughter, Briana. Ian finds himself yearning for home after eighteen years, but his wife's refusal to leave her country and politically powerful family places him in the perplexing position to choose between country and family.
When Ian finds solace from his dilemma and falls in love with a gorgeous Columbian psychiatrist, Daniela, he has no idea what path his life is going to take. It turns out to be a very dangerous one that includes murder and drug-trafficking. Daniela's jealous, drug-trafficking husband becomes the prime suspect in the murder of an enforcement officer, and Ian's enlisted to help find out what happened. The DEA won't take no for an answer and Ian is put into the unenviable position of informant.
In the meantime, he's caught up in a tumultuous, passionate love affair that he can't bear to leave. When his lover persuades him to flee with her to the U.S. border, the two have to dodge criminals, participate in a drug smuggling operation, and set up a trap to sabotage it.
Who killed the agent? Who is the greatest threat to Ian and who must he betray? Will he leave the life he's always known to be with Daniela or return to his average life?
This big, provocative novel creates a dizzyingly, heart pounding page-turner. Thriller fans will want to settle in for the weekend—this one's a winner with a killer ending.
"IAN, EL GÜERO" (ISBN: 978-1-60693-645-0) is now available for $16.95 and can be ordered through the publisher's website:
http://sbpra.com/FrankDuffy, Amazon, and Barnes and Noble.
WHOLESALERS: This book is distributed by Ingram Books and other wholesale distributors.
Contact your representative with the ISBN for purchase. Wholesale purchase for retailers, universities, libraries, and other organizations is also available through the publisher; please email bookorder(at)sbpra(dot)net.
About the Author - Fancis Duffy grew up in the New York Metropolitan area and has an English language school in Mexico City. Mr. Duffy has written five screenplays and a novel. He has one daughter, one granddaughter and lives with his wife of 37 years in Mexico.
Strategic Book Publishing and Rights Co, LLC