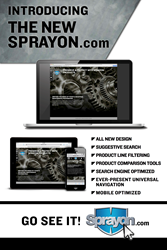 We're really proud of what we've done with Sprayon.com . We really feel like we've got the best website in the industry to go along with the best line of products for the industrial, MRO & food processing space.
Cleveland, OH (PRWEB) October 02, 2014
For over 45 years, Sprayon® has delivered reliable, innovative lubricant and chemical solutions for the most demanding industrial, MRO and food processing applications. Sprayon's products and programs have been developed to meet the needs of today's industrial maintenance professional to help any operation become more efficient, more productive, more profitable and help the workforce work smarter, safer, better.
And today, Sprayon is proud to introduce a new interactive web experience with the re-launch of Sprayon.com.
"One of the things we're really proud of at Sprayon is our continuous engagement with our end-users to understand what they want & need for their jobs. And just like our products, this new website was developed specifically to meet their identified needs," said Joe Murlin, Product Manager at Sprayon Products.
Among its many new features, the new Sprayon.com features a new responsive design that optimizes the content for display on any size browser. "With our diverse product portfolio, the new layout and design helps users not only learn about the entire Sprayon offering, but also gets them to the products they're looking for quickly. For today's maintenance professionals, the ability to have the most up-to-date product and safety information at their fingertips is crucial to their daily work. And with this new design, this information is not only available with just a few clicks from the convenience of their smart phone or tablet, but also optimized for viewing on any of these platforms," added Murlin. Some other features of the website include:
Ever-Present Universal Navigation: This unique universal navigation follows the user throughout the site and allows access to all site content with a simple, slide-out motion.
Product Feature Filters: Users can easily filter the entire Sprayon product line based on specific features and applications to find the product that's right for them.
Suggestive / Predictive Search: Looking for specific product information or a solution to a specific application? With the new Suggestive / Predictive Search, users are able to quickly find what is available within Sprayon.com based on the 1st few letters typed.
Expanded Product Detail: Everything a maintenance professional could possibly want or need to know about Sprayon's products is detailed within the individual product detail pages. This includes MSDS data, links to NSF Registrations, Product Attributes, Applications, Specs and much, much more.
New Video Content: Engaging Product and Category Specific Videos demonstrate the superiority of Sprayon's diverse product line. And the new "Why Sprayon" Video series helps users understand the science behind many of our products and how Sprayon outperforms the competition.
Competitive X-Ref: Users can see how Sprayon compares to some of the leading competitors in the industry by entering the product number or scanning in the UPC of a "competitive" product to get the Sprayon equivalent and how Sprayon outperforms.
Added Murlin, "We're really proud of what we've done with Sprayon.com and we've received great reviews from our beta testers. We really feel like we've got the best website in the industry to go along with the best line of products and solutions for the industrial, MRO and food processing space."
To check out the new website and learn more about Sprayon Products, please visit Sprayon.com.