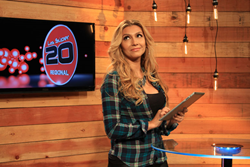 "These new shows will spice up a full slate of content that is always one step ahead of our competitors,"
Los Angeles, CA (PRWEB) October 01, 2014
LATV, the original national, bi-cultural entertainment network announces new additions to its Fall line-up, plus new twists on some of our fan-favorite shows.
Leading the charge, is an all new additions to LATV's line-up, Las Super 20 Pop, hosted by Super Estrella's Carlos Alvarez, and Las Super 20 Regional, hosted by Mexican Regional personality Vanessa Palomino. Each program counts down the top hits, features exclusive artist interviews, and invites viewers to vote on line for their favorite tune.
Las Super 20 series represents LATV's first on-air collaboration with Entravision, by repacking Super Estrella FM's popular musical countdown format into a half-hour television presentation with a strong and unique interactive component.
Want to find out who tops the list of the Super 20? Tune in every Saturday and Sunday at 4:30 PM PST/ 7:30 PM EST.
Also returning for the fall season are brand new episodes of LATV's signature shows:
LATV's flagship show En La Zona, offers up a hot new look and bold new style. Hosted by Super Estrella DJ Keven Ramirez, ELZ is an entertainment news/talk show that offers an engaging and fresh take on the world of pop culture. ELZ airs every Thursday, at 6:00 PM PST/ 9:00 PM EST.
Latino TV hosted by music journalist Giselle Ugarte. Latino TV "lives life with an accent" with exclusive profiles and interviews featuring some of the biggest celebrities, music stars, athletes, and leaders in the American Latino community. Latino TV airs every following Monday through Wednesday at 5:00 PM PST/8:00 PM EST.
For our sports junkies, we bring back our fan favorite highlight shows, El Ultimo Pitazo, A Late-night talk show hosted by Jean Duverger with the latest sports-related news, controversies, bloopers, exclusive interviews plus the latest gadgets and accessories for an international audience. El Ultimo Pitazo air every Tuesday through Friday at 7:00 PM PST/ 10:00 AM EST.
And Locas Por El Futbol, a dream come true for any futbol fanatic, as it's hosted by six beautiful women, analyzing and debating the most popular sport in the world, futbol! Locas Por Futbol airs every Monday at 7:00 PM PST / 10:00 AM EST.
Finally, because our viewers demanded it, this year, LATV unveils a reboot to its signature trademark rock music video series Rokamole. From Café Tacuba to Girl in a Coma, Rokamole brings you the best in cutting edge rock from across the U.S. and Latin America. Rokamole airs every Thursday at 6:30 PM PST/9:30 PM EST.
"These new shows will spice up a full slate of content that is always one step ahead of our competitors," says Luca Bentivoglio, LATV's COO explains. "While serving the emerging bi-lingual market, we have been able to continue to pursue quality programming targeting both English and Spanish speaking Latinos. It's hip. It's fun. It's now."
About American Latino Syndication:
LATV Network's fully-owned subsidiary, American Latino Syndication, produces and distributes "American Latino" and "LatiNation," two award-winning, Latino-themed TV programs that are broadcast on general market stations in over 100 cities nationwide. All of LATV's original shows and American Latino Syndication productions are entirely produced at The Complex Studios, the full service, state-of-the-art production center located in West Los Angeles.
Go to http://www.LATV.com and http://www.latination.tv.
# # #
Media Contact:
Melina Rodriguez
Marketing Manager & Affiliate Relations
310-943-5288
mrodriguez(at)latv(dot)com