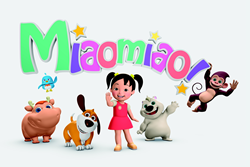 We're growing quickly and have a big year ahead.
Toronto, ON (PRWEB) October 01, 2014
As it heads to MIPCOM with new apps and two new seasons in its Miaomiao franchise, Toronto's Mark Animation has also added new talent to its executive team and signed a new global distribution deal.
President and CEO Jason Loftus announced this week that the company has welcomed kids' entertainment veteran Donna MacNeil to the team as VP Marketing and Strategic Development.
Formerly VP / Group Publisher of Kidscreen and Senior Director Promotional Marketing at Spin Master, MacNeil will oversee marketing strategy, communications and assist in the strategic development of the company's portfolio of digital entertainment properties.
MacNeil joins Mark's Leo He in his newly expanded role as COO, in which he oversees all development, production and studio operations for the company's slate of game and television projects. Earlier this year, Mark Animation upped former National Geographic digital producer Jared Pearman as Director of Business Development. The company is also ramping up its studio with additions in game design and creative to support its growing slate of media properties.
Additionally, Mark is pleased to announce that it has signed a deal with Brain Power Studio Rights, led by industry veteran Beth Stevenson, to represent the Miaomiao animated series globally.
"We're growing quickly and have a big year ahead. We couldn't be happier with the leadership team we're fielding and we're thrilled to be working with Beth, Leslie and the team at Brain Power," said Loftus. "They saw what we aim to do with Miaomiao and right away we found a great match. We're excited to have them help us bring our vision to kids broadcast partners around the world."
Other announcements as Mark heads into MIPCOM include:

Following the back-to-school release of its new Learn with Miaomiao: Chinese kids app for iOS, Mark is working on nine additional Miaomiao apps (including a special Chinese New Year-themed game and accompanying 30-min television special), and is in final production stages on two seasons of its Miaomiao animated television series (30 x 7 min). All are scheduled for rollout through 2015. Miaomiao has received support from leading media funding agencies in Canada, including Canada Media Fund, the Bell Fund, and investment from the Shaw Rocket Fund.
Shuyan the Kung Fu Princess, a five-part episodic action-adventure game inspired by ancient Chinese principles of Kung Fu, has begun ramping up for its first release by partnering with a world-champion Kung Fu master, Master Longfei Yang, who flew to its Toronto motion-capture studio for sessions in August. The first Shuyan episode is scheduled for release in the first half of 2015, and Mark is beginning to talk with partners about the development of film and television for the property.
Mark Animation will be at MIP Junior and MIPCOM in the Telefilm Canada pavilion discussing its new properties and seeking new interactive and animation opportunities.
Contact at MIPCOM/MIPJunior:
Jared Pearman, Director of Business Development | jared[at]markanimation.com
Telefilm Canada Pavilion P-1.A51
Properties will also be available in the MIPJunior Screening Suite.
ABOUT MARK ANIMATION
Mark Animation is an exciting new television production company and game studio based in Toronto that combines culture and modern technology to create unique learning and interactive experiences across digital media platforms. With a multicultural team and inspirations drawn from Chinese culture, Mark Animation's current projects reflect the increasing diversity of audiences and draw from rich cultural narratives that inspire and engage people of all ages and backgrounds.
Current properties include Miaomiao, a cross-media preschool Chinese learning property featuring 30+ animated television episodes with a ten-app game series rolling out through 2015, and Shuyan the Kung Fu Princess, a five-part episodic action-adventure game series launching in early 2015 for iOS.
Mark's team is as diverse as it is accomplished, and the company was recognized among 20 top Canadian independent game studios featured by Telefilm during the 2013 Game Developers Conference in San Francisco and also in the "Best of Canada" showcase at MIPJunior 2013.
Learn more at http://www.markanimation.com.
ABOUT BRAIN POWER STUDIO
Brain Power Studio Inc. is a kids and family media company based in Canada and founded by Beth Stevenson, who previously worked as a Partner and Senior Executive at Decode Entertainment / DHX Media. Brain Power Studio is committed to seeking out brave new projects and making them! For more information, please visit http://www.brainpowerstudio.com