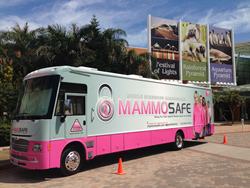 We offer our deepest gratitude to all of our partners of the past year for helping us reach this one year milestone.
(PRWEB) October 02, 2014
Mammosafe has progressed from many open days per month in January, 2014 to being fully booked for the last quarter of 2014. It has done this by offering top quality patient care along with a service which is available nowhere else in the nation, namely the opportunity for the patient to have a consultation with the physician to review her mammogram results. When a woman has her mammogram with Mammosafe, she actually meets personally with the physician on board the mobile coach in order to discuss the results of her mammogram immediately after the mammogram is completed.
As one recent Mammosafe partner put it, "A teacher from the high school called me at the beginning of the school year to thank me for setting up (our Mammosafe Day). She said she had her mammogram done and was diagnosed with breast cancer as a result. She didn't have a single symptom to speak of but decided to do it anyway simply because of the convenience of having it done there at work without having to miss any work. Her doctor said she was extremely lucky because her type of cancer usually doesn't show any signs or symptoms until its later stages. She also credited Dr. Roubein with encouraging her to follow up immediately by taking the time to sit and talk to her about her mammogram results. As long as I have the ability to do so, I'll be sure you and your staff are here every year! If we only help 1 person, and we did, it's more than worth it to me. Not to mention, you are all so well organized there's not much for me to do."
We offer our deepest gratitude to all of our partners of the past year for helping us reach this one year milestone.
During the course of the past year, Mammosafe added "Mammosecond" (http://www.mammosecond.com), its second opinion service which gives all women access to another avenue of breast imaging and intervention expertise as they make important decisions about how to address their breast health concerns.
In keeping with its commitment to innovation and constant improvement, Mammosafe is proud to announce another first! Mammosafe will now offer mobile diagnostic mammography in addition to its mobile screening mammography services. This is another service available nowhere else in the nation.
Mammosafe continues to break new ground and dissolve barriers to care with one thing in mind: The mission of Mammosafe is to make the finest breast health services in existence readily available to every woman.
Learn more at http://www.mammosafe.com.