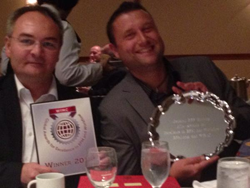 "Being named a WfMC winner delivers two huge benefits; firstly, it provides independent recognition of our achievements, helping to reinforce the value of BPM internally. Secondly, it provides external recognition of what Bizagi has helped us achieve
London, UK (PRWEB UK) 1 October 2014
There was once again champagne in Chicago as Bizagi, the global Business Process Management (BPM) platform author, celebrated two wins at this year's Global Awards for Excellence in BPM and Workflow.
Customer AgFirst Farm Credit Bank took the prize in the Adaptability and Agile Business Practices category while Generali PPF Holding provided the best evidence of System Modernization & Operational Transformation.
The awards, announced at the BPM in Banking, Finance and Insurance conference in Oakbrook, Illinois, are part of a four-day event dedicated to showcasing user organizations that have demonstrably excelled in implementing innovative business process solutions to meet strategic business objectives.
Co-sponsored by WfMC and BPM.com and now in their 20th year, finalists were selected by a panel of judges drawn from the sponsors.
WfMC Executive Director and Awards judge Nathaniel Palmer explains:
"The AgFirst and Generali nominations received high praise from our judging panel, and both stand out as for their demonstrating of the inherent benefits available through the digitization of business processes." Explained Nathaniel Palmer, Executive Director of the Workflow Management Coalition. "What is also apparent in both case studies is the unique data-driven architecture and orientation of Bizagi's BPMS. The quantification of benefits such as component reusability and speed of deployments, as well as well-formed BPMN models and process design, were clearly articulated with each case study. As an analyst I have tracked Bizagi for over a decade and recognize that they have undergone significant growth in the last 12 months, and today offer a commanding global presence."
And the winners are…

AgFirst, part of the national Farm Credit System, streamlined its complex loans transmittal process in just 16 weeks. Through commitment to agile working methods and rapid development, AgFirst was able to start small and scale fast, delivering customized solutions of initial processes to the bank's other financial Associations in half the time.
Generali PPF Holding, part of the 6th largest insurance group globally, chose Bizagi to boost process visibility, productivity and efficiency in its Corporate Risks underwriting department. To date, 51 processes are in 4 countries in 5 languages across Eastern Europe. Bizagi BPMS cost 50% of competitor offerings, a figure set to rise to 90% through a data-centric architecture that enables reusable multi-country and multi-language deployments that become more cost effective with scale.
Ivana Pickova, Head of BPM at Generali, said:
"Being named a WfMC winner delivers two huge benefits; firstly, it provides independent recognition of our achievements, helping to reinforce the value of BPM internally. Secondly, it provides external recognition of what Bizagi has helped us achieve, specifically, enhanced speed of delivery and service quality. Both of these qualities are essential to thrive in the fast-paced world of insurance."
Finalists receive additional recognition by having their case studies published in the annual edition of BPM Excellence in Practice by Future Strategies Inc.
Further Links:
Read the WfMC award entry criteria
Bizagi customers make WfMC final for fifth consecutive year
Adidas and Colpensiones won gold at the WfMC BPM Awards 2013
In our customers' words: learn how adidas, PSMMC and other enterprises benefitted from Bizagi BPMS
About Bizagi
Bizagi (which stands for business agility) is a privately-owned company run by software entrepreneurs who are experts in Business Process Management (BPM). Over 350 global customers have selected Bizagi to model and automate their business processes which results in improved operational efficiencies, shorter time to market and business agility. Our enterprise customers gain significant competitive advantage by using Bizagi's software to streamline mission-critical processes (cross-functional, complex and international) as well as mundane daily routines. With global headquarters in the UK, offices in Europe, USA and Latin America, Bizagi is supported by a strong implementation partner network worldwide. For more information, please visit http://www.bizagi.com.
Media information:
Vasileios Kospanos
E: vasileios.kospanos(at)bizagi(dot)com
M: +44 (0) 7539 181256