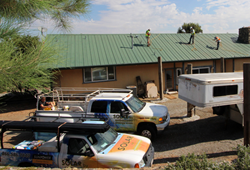 I love this American story. We have a patriotic client, a military-veteran crew, cost savings, and energy independence
Murrieta, CA (PRWEB) September 30, 2014
The system was mounted on an unusual "7V" metal roof and was comprised of 42 panels with a rating of 327 watts DC per panel, equating to a 13.7 kilowatt solar system. The homeowners, Randy and Sue Archbold, were anxious to offset the bulk of their Edison bill, so the system was designed accordingly and in compliance with the available shade-free space on their roof.
"Most installations are fairly straight-forward, whether on the roof or ground," said Kelly Smith, president of Ambassador Energy. "We are accustomed to and welcome complex installations, as we cut our construction teeth years ago as General Contractors. We love a challenge and had a great time engaging our military veteran crew to tackle the task. The Archbold's were terrific to work with and their ranch was a joy to work on. Our military-veteran crew members know of The Shootist store in Murrieta and loved the ability to work through the challenge of a hot metal roof during a blisteringly hot week in SoCal. Only a crew who has experienced the heat of Afghanistan could work in those conditions without complaining. Our veteran installers are amazing!"
Ambassador Energy successfully completed the installation and the Archbold's have gained Permission to Operate from their utility company. They are now enjoying the stability of remaining connected to 'the grid', but buying only about fifteen percent of their energy from SoCal Edison. They report that they are enjoying the savings and energy independence provided by generating the other eighty five percent from their own solar system.
"I love this American story," continued Smith. "We have a patriotic client, a military-veteran crew, cost savings, and energy independence, resulting in a reduction of dependence on foreign resources. What's not to love?"
About Ambassador Energy (AE)
AE is comprised of Ambassador Energy College Solar Training, the Ambassador Energy Agency Program and the installation arms, Ambassador Energy and Ambassador Solar. On staff are NABCEP Certified PV Installers, NABCEP Certified PV Technical Sales professionals [Fulgham/Kelso] and multiple NABCEP EL graduates. AE holds California licenses General Contractor B, C10 Electrician and C46 Renewable Energy. Ambassador Energy is IREC/ISPQ accredited. AE Agencies are nationwide. Ambassador Energy installs residential and commercial PV systems throughout California and the US.
About The Shootist
Located in Murrieta, CA since 1991, The Shootist has been providing the firearms enthusiast with all the items necessary to meet their needs. Whether they are avid collectors, sharp shooting experts, hunters or simply weekend enthusiasts, The Shootist has been there with firearms, ammunition, accessories and even clothing to help their clients have the most complete experience possible.