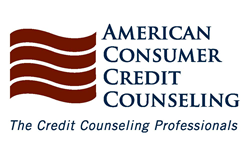 All too often consumers' lack of preparation for the season can create long-term financial struggles and leave them with a lingering holiday debt hangover come the New Year.
Boston, MA (PRWEB) October 01, 2014
The warm days of summer are starting to fade, and the fall season is well underway, which means the fast approaching holiday shopping season will be here soon. As with every holiday shopping season, consumers are expected to encounter rising costs and increased competition among retailers for tight consumer spending, which can lead to frivolous purchases and overspending. Now is the time when shoppers should not only plan ahead for what they will be purchasing, but also determine a plan for how they will afford it.
"Though there is no snow on the ground yet, it is never too early to begin thinking about how to prepare financially for the holiday season," said Steven Trumble, President and CEO of ACCC. "All too often consumers' lack of preparation for the season can create long-term financial struggles and leave them with a lingering holiday debt hangover come the New Year."
According to the Prosper Spending Score, spending during the 2014 holiday season is projected to increase more than eight percent from 2013, with E-Commerce once again playing a large role in sales. Last year, online sales from Thanksgiving to Cyber Monday climbed 26 percent to $7.6 billion, with Cyber Monday alone seeing sales increase 16 percent from the previous year and finishing 31.5 percent higher than Black Friday.
Many analysts attribute last year's increase in e-commerce sales to such few shopping days between Thanksgiving and Christmas. ACCC projects this as something that may occur in 2014 as well, with only 26 days between the two holidays.
"We are expecting a very fast-paced and active shopping season," stated Trumble. "The season is just around the corner, and people need to start saving and preparing now in order to avoid the troubles of dealing with the post-holiday financial debt. The good news is there are several resources that consumers can take advantage of."
People this year are looking to keep a positive outlook. The majority of consumers, 53 percent, are looking to maintain their 2013 budgets.
ACCC predicts that retailers will be challenging consumers' intentions by holding flash sales, offering price-matching guarantees, and increasing their promotions. These trends will continue to increase as November and December approach when competing retailers will try tactics such as opening on Thanksgiving, or launching Grey Thursdays (preview sales before Black Friday).
To prepare for the imminent season, consumers can start saving and utilize these tips to spend responsibly. ACCC provides a guide on how to survive the holiday season financially.

Make a list of who you are shopping for, and of what holiday events to prepare for – This could include dinners, parties, excursions, or travel. By knowing exactly what you will be spending your money on ahead of time, you will be prepared for your final costs. If you plan ahead of time, you can even buy prior to the holiday rush.
Check holiday savings accounts – See if there are any new allocations you can make to add to these accounts. Also, various companies run rewards/points programs, such as GAP Rewards or AMEX points. Check to see if these can be used to buy gifts.
Make an initial budget – Be realistic about what you can afford and how long you have to save. Understanding your financial reality before hitting the stores is critical to ensure that you're not left swiping your credit card at the end of the season.
Allocate your budget – Creating a holiday budget now can help you stay on track. When budgeting, consider if you will be hosting a party, how many gifts you will be buying, or how many parties you usually attend. ACCC provides both a holiday budget worksheet and a holiday shopping checklist.
Carry your list with you always – All too often shoppers will get distracted by flash sales and "bargains" and end up with a trunk full of items that were not even included on the shopping list. By simply carrying a list with you, whether it is hand-written or on a smartphone, consumers can save themselves from buying unwanted and unnecessary items.
Be frugal about your gifts – Are there are gifts you have that you can buy in bulk? Can you split these up and give them to people? For example, buy a 12-pack of gift lotions and give three each to four people.
Search for deals - Take full advantage of Cyber Monday and Black Friday. Know ahead of time what the deals may be. Retailers are vying for consumers, so make sure you look at all the competitors.
ACCC is a 501(c)3 organization, that provides free credit counseling, bankruptcy counseling, and housing counseling to consumers nationwide in need of financial literacy education and money management. For more information, contact ACCC:
For credit counseling, call 800-769-3571
For bankruptcy counseling. call 866-826-6924
For housing counseling, call 866-826-7180
Or visit us online at ConsumerCredit.com
About American Consumer Credit Counseling
American Consumer Credit Counseling (ACCC) is a nonprofit credit counseling 501(c)(3) organization dedicated to empowering consumers to achieve financial management and debt relief through education, credit counseling, and debt management solutions. ACCC provides individuals with practical debt solutions for solving financial problems and recognizes that consumers' financial difficulties are often not the result of poor spending habits, but more frequently from extenuating circumstances beyond their control. As one of the nation's leading providers of financial education and credit counseling services, ACCC's certified credit advisors work with consumers to help them determine the best plan of action to get out of debt and regain financial stability. ACCC holds an A+ rating with the Better Business Bureau and is a member of the Association of Independent Consumer Credit Counseling Agencies. For more information or to access free financial education resources, log on to ConsumerCredit.com or visit TalkingCentsBlog.com.
###