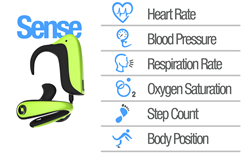 Motivating Fitness for Better Health
Plano, Texas (PRWEB UK) 14 October 2014
Sensogram Technologies (http://www.sensogram.com), an international research and development company, today announced the launch of a Kickstarter campaign (http://www.sensotrack.com/kickstarter) to raise $250,000 to manufacture and refine its breakthrough SensoTRACK product. SensoTRACK is a wearable fitness device that can simultaneously measure and monitor heart rate, respiration rate, oxygen saturation and blood pressure in real time, along with a range of other parameters such as calories burnt, step count and geophysical location. The Kickstarter campaign is scheduled to run for 60 days after the October 14 launch.
SensoTRACK is offered in a choice of six vibrant colors – blue, yellow, green, red, black and orange. Current plans call for limited availability by February 2015 and full-scale production in second quarter of 2015. The suggested list price is $245 per device; however, it is available for pre-order on Kickstarter for $199.
SensoTRACK (http://www.sensotrack.com) fits snugly on the wearer's ear, allowing users to go about their sport or physical activity unimpeded. It wirelessly senses, monitors and tracks users' performance, including individual measurements that can be entered manually. SensoTRACK can run as a stand-alone device or paired with a smartphone or tablet to upload data to a secure cloud locale. The cloud platform allows users to either view the data in private or share their progress with others. SensoTRACK's specially designed algorithms analyze, interpret and present the data in a user-friendly dashboard display. The platform also allows users to share fitness routines across the user community.
"Kickstarter is our chance to engage directly with our target market, letting them know about the advanced technology and functionality SensoTRACK offers," said Dr. Vahram Mouradian, founder and chief technical officer, Sensogram Technologies. "We are in the final development stage following four years of rigorous testing and refinement. Our backers – and the fitness marketplace as a whole – will be excited to see what SensoTRACK offers them in terms of vital signs measurement and precision. No other device currently available can deliver the full range of fitness and wellness information that SensoTRACK can."
Dr. Mouradian continues, "Whether you are an elite athlete or someone who wishes to chart progress toward greater fitness, the feedback SensoTRACK provides can help motivate you to reach your goals. Information is power, and SensoTRACK offers users the power to sense, track and manage personal fitness."
SensoTRACK will be made exclusively in the United States by development partners in Plano, Texas, who are certified to manufacture in compliance with ISO Standards in both electronics and medical manufacturing. Industry experts estimate that within the first full year of production, SensoTRACK will create approximately 50 new jobs in the Plano area while contributing approximately $2 million to the local economy.
About Sensogram Technologies
Sensogram Technologies, an international research and development company, designs, produces and markets intuitive, easy-to-use wireless mobile devices. Its innovative biosensors allow real-time, continuous, remote and mobile monitoring of human vital signs and physiological parameters. To learn more, please visit our website at http://www.sensogram.com or call +1 469-955-3500.