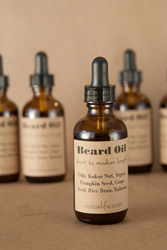 Half our customers are buying No Tox Beard Oil for their significant other, to tame that scraggly beard and make it nicer for snuggling.
Montrose, CA (PRWEB) October 01, 2014
No Tox Body-Home-Life announced today a new beard treatment for men made from premium oils and essential oils. Handcrafted and preservative-free, this beard oil is created using "dry" oils, meaning the treatment absorbs rapidly and doesn't leave an oily residue on the hair or face.
"No Tox Beard Oil came from customer demand," says No Tox founder, Sandee Ferman. "They wanted something moisturizing but light, and with a refreshing scent that was all natural. We created a Beard Oil with premium oils from Brazil, Morocco, Hawaii and the United States. Each oil was chosen for its special properties; considerable thought went into this recipe."
Ferman disclosed that half their customers buy the beard treatment for their significant other. "No one wants to snuggle up to a bristle brush. It's rough on the face and makes cuddling not as much fun. When using a high-quality beard oil the beard becomes softer, less scraggly, and nicer to be next to." She mentioned the scent is a hand-mixed blend of lemon, lime and spearmint pure essential oils.
Crafted from six luxurious oils, No Tox Body-Home-Life's beard oil treatment moisturizes and soothes. Kukui nut oil is used in Hawaii to soothe sunburned and chapped skin. Moroccan argan oil is used to moisturize and nourish the skin and has been especially helpful for flaky skin. As Ferman says, "Many men report their skin gets dry and irritated and flaky underneath their beard. This is understandable since the skin isn't being exfoliated regularly by shaving. Several premium oils including Brazilian babassu oil are used in our Beard Oil to calm irritated skin as well as condition the beard to make it more manageable. We think it's the best beard oil available."
Normally two to four drops are used daily to condition and groom the beard. Two sizes are available: a 100-drop sample bottle (about a one month supply), and a two ounce bottle which will last most men many months. Each bottle is freshly handcrafted and has a one-year shelf life without refrigeration.
No Tox Body-Home-Life crafts home and body products without toxins, made with natural ingredients one can actually pronounce, to support a non-toxic lifestyle. For full information about each ingredient in their Beard Oil and the reasoning behind its use, visit their website at notoxlife.com.