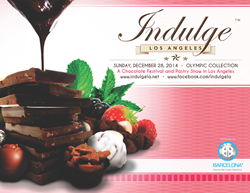 Indulge LA
Los Angeles, CA (PRWEB) October 01, 2014
Slip into a little black dress, strap on a pair of sexy stilettos, and join in for the most delicious melt-in-your-mouth chocolate festival of the year.
LA's top chocolate and pastry chefs along with the world's #1 chocolatier Jean-Marie Auboine will be blessing taste buds with their deliciously creamy chocolate creations.
Along with luxurious chocolate, Indulge LA will be serving delectable pastries, wines, champagnes, foods, and spirits.
Celebrity chefs: Jean-Marie Auboine, Gianni Santin, Stephane Treand, Lee Smith, Federico Fernandez, and Annette Starbuck.
Chocolate alone is great, but chocolate for charity is even better.
Who said shopping and eating chocolate had to be a guilty pleasure?
When: December 27-28, 2014 12am - 4pm
Where: Olympic Collection 11301 Olympic Blvd. Los Angeles, CA 90064