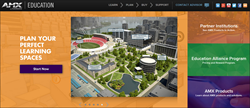 This App was built to give campus decision makers real-world examples of the many ways that automation and control technologies can enhance the ever growing use of technology in the classroom and other higher education facilities.
Orlando, FL (PRWEB) October 01, 2014
As part of its long-standing commitment to simplify technology management in higher education, HARMAN's AMX introduced two new resources for university decision makers - the new AMX Campus Explorer Education App and a completely redesigned AMX Education Website - both being demonstrated in Booth #139 at this year's EDUCAUSE 2014 Annual Conference in Orlando.
Reactions to the ease of use and immediate understandability of the new AMX Campus Explorer App have been consistent: "truly interactive", "extremely engaging", "anyone can use it", "great way to imagine the possibilities". The Campus Explorer App was built to give higher education decision makers real-world examples of the many ways that automation and control technologies can enhance the ever growing use of technology in the classroom and other higher education facilities. From being able to see how a professor might screen mirror a video from her mobile device to the projection screen of modern lecture theater to being able to interact with the technology inside a university dental school's applied learning space; no facility, application or use of technology was overlooked in the development of this App.
Using the Campus Explorer App, users are able to experience technology management firsthand from traditional and collaborative learning facilities to wider reaching campus venues like sporting complexes, student housing and administration buildings. The App integrates precision-illustrated, cutaway views and click, touch, swipe and gesture navigation to create a simple understanding of how technology is controlled/automated, media is distributed and resources are managed. Users can choose from a variety of components and systems to customize a technology management solution for each location and a range of user interfaces to make managing the experience simple. The Campus Explorer App is available to support online users in via the AMX Education Website as well as offline planning via a new iPad App.
To further support the needs of the higher education community, the AMX Education Website was completely redesigned from the ground up. The new website further assists university administrators and IT and AV managers in the time-consuming task of researching and understanding how technology can best be used and most easily managed in the university setting. The new website is segmented into four sections that offer a very easily traversed, non-technical pathway for users of all backgrounds to discover the possibilities and understand the process of purchasing technology management solutions, tailored to the needs of higher education.
The 'LEARN' section of the new Website includes helpful white papers, solution guides, case studies, videos and other resources, designed to illustrate and explain exactly what's possible when beginning the purchase process. Once a user has a good understanding of what's possible, the "PLAN" section goes deeper to give them an opportunity to see and experience how each component of technology management can specifically benefit their campus, including the ability to customize rooms and facilities with technology and user interfaces.
"We believe the new App and Website offer higher ed decision makers a level of resources and planning tools they've never had in one place before," said Sarah Kinard, AMX by HARMAN Education Marketing Manager. "Illustrating the possibilities of these solutions can often be one of the lengthiest steps in the purchasing process. Demonstrative resources like these eliminate this hurdle by providing a richly engaging experience and an App-based platform has allowed us the flexibility to continually support the needs of our users on an ongoing basis."
Additional Details
•Experience the new Campus Explorer Education App:

•Visit the new AMX Education Website

LEARN Section – Learn tracks, white papers, solutions guides, videos
PLAN Section – Planning tools, quality assurance, case studies
About AMX by HARMAN
Founded in 1982 and acquired by HARMAN in 2014, AMX® (http://www.amx.com) is dedicated to integrating AV solutions for an IT World. AMX solves the complexity of managing technology with reliable, consistent and scalable systems comprising control and automation, system-wide switching and AV signal distribution, digital signage and technology management. AMX systems are deployed worldwide in conference rooms, homes, classrooms, network operation/command centers, hotels, entertainment venues and broadcast facilities, among others.
About HARMAN
HARMAN (http://www.harman.com) designs, manufactures and markets premier audio, visual, infotainment and integrated control solutions for the automotive, consumer and professional markets. With leading brands including AKG®, Harman Kardon®, Infinity®, JBL®, Lexicon® and Mark Levinson ®, the Company is admired by audiophiles, musicians and the entertainment venues where they perform. More than 25 million automobiles on the road today are equipped with HARMAN audio and infotainment systems. HARMAN has a workforce of approximately 16,000 people across the Americas, Europe, and Asia and reported sales of $5.3 billion for the twelve months ended June 30, 2014.
For more Information contact:
Sarah Kinard
AMX by HARMAN Education Solutions
469.624.7739
sarah.kinard(AT)amx.com
Lane Shannon
AMX by HARMAN Public Relations
469.624.6569
lane.shannon@amx.com
© 2014 HARMAN International Industries, Incorporated. All rights reserved. Harman Kardon, Infinity, JBL, Lexicon and Mark Levinson are trademarks of HARMAN International Industries, Incorporated, registered in the United States and/or other countries. AKG is a trademark of AKG Acoustics GmbH, registered in the United States and/or other countries. Features, specifications and appearance are subject to change without notice.