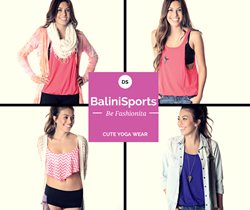 Miami, FL (PRWEB) October 01, 2014
BaliniSports Introduces New Fashion Guidelines for Yoga Outfits:
BaliniSports is inviting women around the world to learn about innovative ways to squeeze more out of every piece of yoga apparel they own. The brand is releasing five essential tips for stretching your wardrobe to create flawlessly stylish outfits. Designers at BaliniSports have collaborated with fashion models to create guidelines for how to pair various items from the brand's collection with everyday fashion essentials. The brand hopes to give women the confidence to dress comfortably and stylishly without needing to spend a lot of time or money.
"Our goal is to teach women the right way to wear yoga clothing outside of the studio," said the creator behind BaliniSports, Ada Hung. "There is a fine art to wearing yoga clothing that goes beyond just throwing a jacket on over what you wore to the gym. We want to give women tools to create a casually elegant look that can help them shine everywhere from vacations to business meetings."
The first tip released by the brand includes the use of scarves to give yoga apparel a polished appearance. Patterned scarves can be placed over yoga tank tops to create a sophisticated line around the collarbone. Tribal prints are mentioned as being perfect for parties, beach bonfires, and casual dates. The brand recommends going for a chiffon or silk scarf when seeking to create a sophisticated look.
The second fashion tip from BaliniSports focuses on the magic of fitted blazers. A long blazer can be worn over a pair of yoga shorts to balance out the amount of skin that is revealed in a single outfit. The blazer will add a sense of conservativeness to the top of a woman's outfit and allow her legs to take the spotlight. Jean jackets and cardigans are also recommended for some stylish coverage.
The third fashion tip from BaliniSports encourages women to focus on accessories. Chunky statement necklaces are pointed out as being one of the easiest ways to transform a gym outfit into a fun, flirty outfit for a coffee date or lunch meeting with friends. The simple nature of a fitted yoga tank top will allow the dramatic necklace to take center stage.
Jean pants and jean shorts are the focus of the fourth fashion tip from BaliniSports. Fringed jean shorts are highlighted as a perfect choice when trying to create a casual and sporty look. The brand's guidelines recommend pairing jean shorts with colorful tank tops or yoga bras for a summertime look. A pair of skinny jeans and high heels can be worn under a fitted yoga tank top to create a sophisticated and streamlined look.
Maxi skirts shine as the fifth fashion recommendation. Patterned skirts can be worn with a yoga tank top to create a long and lean look. This outfit is recommended for anyone looking for a light and airy ensemble to wear while traveling. The brand also recommends pairing maxi skirts with yoga bras for beach holidays.
"Research is showing that more and more women are wearing yoga clothing as part of their daily wardrobes than ever before," said Hung. "Even today's hottest celebrities are being photographed running daily errands and going to industry meetings in yoga clothing. We want to empower women to embrace the trend without making any fashion mistakes."
Anyone interested in learning more about the five essential fashion tips released by BaliniSports should visit the brand's website. Items featured in the guidelines can be purchased online.