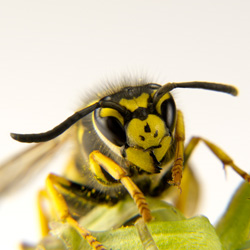 Nashville, TN (PRWEB) October 03, 2014
While there are multiple benefits that accompany yellow jackets, the activity and aggression of these pests has multiplied to levels of concern for homeowners and outdoor enthusiasts in Middle Tennessee. By the end of the summer and into the beginning of fall, the populations of yellow jacket colonies have been known to reach thousands. As depicted by their name, yellow jackets are able to be identified from common bees with their yellow and black bodies. They also have a thinner body with a pinched or gathered waist.
While not all yellow jackets are ground nesters, most of them are found in areas void of vegetation. The nests built near homes are often found under decks, porches and steps and inside landscaping ties. "Because of the dangers of a yellow jacket sting, it is never a good idea to remove their nest from your property," says Erin Richardson, President of All-American Pest Control. "We strongly recommend our professionally trained experts to remove these colonies." Yellow jacket precaution tips from the experts at All-American Pest Control include:
Be aware of possible ground nests on your property. Running over a nest with a lawnmower has the potential to aggravate the nest.
Caulk around pipes and other entry ways into the home to prevent yellow jackets from building nests inside wall voids
Limit the amount of flowering vegetation that is located on your property.
Make sure that garbage is kept in sealed containers.
Always wear shoes when spending time outdoors in the grass.
Take all caution and be sure to never poke at or disturb a nest that you find on your property.
Anyone who notices an excessive amount of yellow jacket activity on their property, or if a ground nest has been seen near their home should not attempt DIY pest control methods.
###
Contact All-American Pest Control and request their well-trained professional technicians to come to the home. They will inspect the property, find the colonies and safely remove the yellow jacket nest.