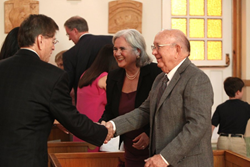 The start of Dr. Garcia's State Recognition Day began with a holy Mass at Incarnate Word Academy.
San Antonio, TX (PRWEB) October 01, 2014
The Dr. Hector P. Garcia Memorial Foundation recently attended several events celebrating the Dr. Hector P. Garcia Texas State Recognition Day, which was observed on Wednesday, Sept. 17.
Incarnate Word Academy Corpus Christi held a holy Mass at the Convent Chapel that was open to the public and middle-level students. Foundation Board President, Cecilia Garcia Akers, spoke about the relevance of education and achieving the highest level of education possible. Dr. Garcia's motto was "Education Is Our Freedom and Freedom Should Be Everybody's Business."
A celebration at Texas A&M University-Corpus Christi was opened by Tejano singer Linda Escobar. Garcia Akers gave an overview of Dr. Garcia's life and contributions. To conclude the event, a $5,000 donation to the Mexican-American Studies Program for a scholarship was awarded.
Mary Carroll High School held showings of "Justice For My People," a documentary of Dr. Garcia's life, and a flag-raising ceremony to commemorate Dr. Garcia's recognition day.
South Texas College Weslaco held a lecture to the history students. Garcia Akers spoke about Dr. Garcia's contributions to civil rights and the importance of voting. Placido Salazar, a lifetime member of the American GI Forum and Purple Heart recipient, spoke about the importance of voting to have adequate representation in the Legislature.
University of Texas Medical Branch Galveston, held its yearly luncheon for one of its "most distinguished alumnus" on Sept. 19 to celebrate Dr. Garcia's contributions to diversity and his mission to provide quality health care for all.
Houston's Metro Rail Line and Houston's Community College unveiled on Sept. 20 a "Heroes" display of 18 community leaders that have contributed to the development of the community. Dr. Hector P. Garcia's image was included as a physician and Founder of the American GI Forum. Garcia Akers accepted the plaque on behalf of the Garcia Family.
About Dr. Garcia:
Dr. Hector P. Garcia was a pioneer in medicine and civil rights starting in the late 1940s. Dr. Garcia's bride's family wanted him to stay in Italy after they were married and the war was over to practice medicine. But Dr. Garcia knew at an early age he had a mission to fulfill in Texas. He started his medical practice in Corpus Christi and saw the problems the returning Mexican veterans were having receiving medical treatment, assistance with housing and finding a job. His office was next to the VA office and he began treating all returning veterans for $3 each. Because of all the complaints he was hearing, he founded the American GI Forum on March 26, 1948 with 700 veterans from all backgrounds attending the first organizing meeting.
About the foundation:
The Dr. Hector P. Garcia Memorial Foundation was formed under the guidelines and rules of the IRS non-Profit 501c3 and is a recognized non-profit corporation by the state of Texas. The Foundation was organized to educate state-wide and national communities about the continuing historical relevance and legacy of Dr. Hector P. Garcia and to encourage, promote and foster the continuation of his ideals through establishing charitable projects and educational scholarships, and by working with various universities, colleges and schools to support those whom the Foundation believes share and actively strive to promote the same ideals that Dr. Garcia held so dear.
The Dr. Hector P. Garcia Foundation continues to strive to promote Dr. Garcia's legacy by awarding scholarships to education institutions that represent the goals of the Foundation. Additionally, their ambitious agenda includes raising funds for a Dr. Hector P. Garcia Memorial Wing and Learning Center at Texas A&M University-Corpus Christi to house Dr. Garcia's voluminous papers, photographs and memorabilia that represents his lifelong devotion to this country.