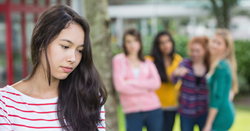 Peer victimization and bullying both happen to children in schools and adults in the workplace.
London, UK (PRWEB) October 02, 2014
Bullying and Peer Victimization are two negative aspects of school life for teens, children and even adults. NoBullying releases today the guide to what is bullying and what is peer victimization.
The guide lists the types of peer victimization such as harassment in all its forms from the psychological, emotional, and physical to the mental. Victims of peer victimization often suffer long-term mental and emotional torment when confronted with bullies or when repeatedly harassed and ridiculed by others over months and years.
The guide also mentions the signs someone may be a victim of bullying such as lying about whereabouts, emotions, feelings, and daily activities as well as social withdrawal and physical wounds or complaints of pains and sores.
Some of the other signs include avoidance when discussing the possibility of being bullied, avoiding eye contact when confronted with the possibility of bullying and ignoring the discussion of bullying when it involves him or her directly.
The guide also mentions how essential it is to consider building a support group for the family member or friend who is dealing with bullying or peer harassment on a day to day basis. Regardless of the severity of the abuse and bullying, building a support group is a way to help someone build their self confidence and self-esteem and reclaim the control they have over their own life altogether.
It is also essential to realize what peer pressure does to a child's soul, examples of cyberbullying and bullying going too wrong are sadly, numerous. From Sarah Clerkson to Jamey Rodemeyer and even the Colombine School shooting perpetrators, sometime children can be bullied to death.
This article serves as a reminder that bullying is rampant in schools, homes, workplaces, on the street and even online. A society that thrives on hate and intolerance will bring out newer generations without an ounce of respect or tolerance of others. That is not a society one would want to live in.
Ciaran Connolly, Co Founder of NoBullying, notes that these questions need more research on the parents' side. There is no one article or one resource that could parents at ease when it comes to their children's safety in school and online.
Connolly says "Peer victimization and bullying both happen to children in schools and adults in the workplace, ending both on the long term implies the need for parents and educators to step in and start talking about it. It is essential to remember that communication within family is top priority."
He added that parents and teachers should make a point to educate the younger generations about the sad outcome of bullying online and offline. According to Connolly, it is quite imperative to press for more firm laws condemning all acts of bullying and harassment.
NoBullying.com features many pages dedicated to parents, teens, teachers, health professionals as well as posts related to cyber safety and the latest news about law making concerning curbing Bullying worldwide as well as inspirational Bullying Poems and famous Bullying Quotes.
The website regularly updates its bullying statistics and cyber bullying statistics as it is essential to understand how widespread the bullying epidemic is. It also regularly runs cyber bullying surveys and questionnaires to get recent updated statistics on everything related to cyberbullying.
He also added that anyone suffering from bullying in any form or way can always find advice and help on the NoBullying website – but if anyone is suffering from severe bullying or cyber bullying, the best thing is to talk to someone locally – a parent, teacher or local organization that has been set up to help with specialized councilors to deal with this topic.