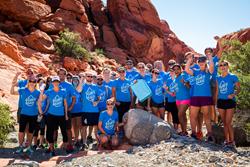 Water is an equalizer across all peoples and nations. The Walk4Water gives our employees a way to help their global neighbors and bring lasting change
Salt Lake City, Utah (PRWEB) October 01, 2014
Over 1,200 CLEARLINK employees united around one cause this summer: to raise money for a sustainable clean water system in Rwanda. Part of how these funds are raised is through a walk touching the two driest states -- Nevada and Utah.
The CLEARLINK Walk4Water kicked-off Saturday, September 27 in Red Rock Canyon, outside Las Vegas, NV. Over 300 employees will take part in the walk, in 15 mile rotations, as they make their way to CLEARLINK headquarters in Salt Lake City, arriving Friday, October 10.
"There is no person untouched by water, whether you live in Utah and think about conservation, or you live in Rwanda and unclean water jeopardizes the lives of your family," Phil Hansen, CLEARLINK CEO, said. "Water is an equalizer across all peoples and nations. The Walk4Water gives our employees a way to help their global neighbors and bring lasting change. CLEARLINKers are building camaraderie among their teams while seeing the measurable impact of their efforts to improving lives. Our employees' commitment to help those in Rwanda is a true expression of CLEARLINK culture and people."
To raise money, CLEARLINK employees reached out to friends and family, held BBQ fundraisers, sports tournaments, and bake sales -- some even dedicated the money they'd be getting for their birthdays to the cause. Over 20 teams will walk the distance between Las Vegas and Salt Lake. They will be walking through areas such as Cedar Canyon, Brian Head, Parowan, Filmore, Delta, Yuba Lake, Nephi Canyon and Rush Valley.
Each CLEARLINKer has a story to tell about why they're participating and the impact it has had on them personally.
Paige Sjoblom, a digital marketer, noted, "With all the luxuries our culture maintains, it's our responsibility to help the rest of the world gain access to life's most basic needs. I loved teaming up with my co-workers to work towards a common goal knowing that we were going to make a difference in a stranger's life."
Vanessa Rios, a sales trainer, shared that, "I am excited to be working for a company that is making a difference in the world. I'm originally from Mexico and I know in parts of my country people face this problem every day. I started to share Walk4Water with my friends and family and I was overwhelmed in the amount of support from my friends and family in the States and in Mexico."
Paul McHardy, a marketing manager, said, "The luxury of clean, filtered, cold water is one that I don't think anyone should take for granted. CLEARLINK's Walk4Water campaign just spoke to me, right at a time when I was looking for some way to give back, to show gratitude for all that I have. It's been so easy, and it will make a gigantic impact."
In Africa alone, people spend 40 billion hours every year walking for water, and often that water is contaminated. This statistic, along with the World Health Organization's (WHO) report that over 3.6% of the global disease burden can be prevented simply by improving water supply, sanitation and hygiene, is what drove CLEARLINK to act. In over 100 days, CLEARLINK raised more than $40,000. This money will be directed to Charity:Water, an international organization with the mission of mission bringing clean and safe drinking water to every person in the world.
The community and media are invited to join the final 10 mile walk from SaltAir to CLEARLINK headquarters at 5202 W. Douglas Corrigan Way in Salt Lake City on Friday, October 10. The shuttle to SaltAir leaves CLEARLINK at 9:00 a.m., and a "Clean Water Celebration" will take place at CLEARLINK as the walkers complete the final lap around the company pond. The celebration is expected to begin around 12:30 p.m.
Email Walk4Water(at)clearlink(dot)com to RSVP or for more information.
About CLEARLINK
CLEARLINK partners with the world's leading brands to increase their reach, drive and
fulfill valuable transactions, and deepen insight into consumer behavior. CLEARLINK has
delivered millions of customers to its brand partners over the past ten years through its
customized marketing, sales and analytics platform. CLEARLINK, headquartered in Salt
Lake City, Utah and established in 2003, employs over 1,200 local sales, technology and
marketing professionals.
In 2014 CLEARLINK was recognized nationally and in Utah for strong leadership, business growth and innovative employee initiatives. For the seventh straight year, CLEARLINK ranked highly in Utah Business Fast50, MountainWest Capital Utah 100 and the Inc500/5000 list. Ted Roxbury, CMO was named a "Sales and Marketer of the Year" by Utah Business and Cammie Cable, VP of HR was named to the "30 Women to Watch" by Utah Business. ComputerWorld magazine ranked CLEARLINK #19 in the "Top 100 Places to Work in IT" and CLEARLINK's 360 Fit Wellness program has been awarded the Healthy Worksite Gold Award and the Corporate Wellness by Gold's Gym Diamond Award.
For an opportunity to join the growing CLEARLINK family, visit
http://www.clearlink.com/jobs.