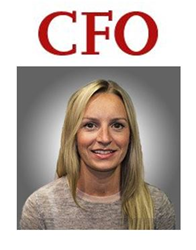 She is one of the most accomplished entrepreneurs that I've met and worked with during my media career
New York, NY (PRWEB) October 01, 2014
CFO Publishing announced today that Josie King, President and founder of Innovation Enterprise, a CFO Publishing company, has been named to Folio's Top Women in Media, in the Entrepreneurs categories. The awards mark Folio's "inaugural list of Top Women in Media, saluting the creativity and accomplishments of our female colleagues, sometimes against the glass ceiling, other times against the grain." Honorees were celebrated during an Awards Luncheon on October 1, 2014 at the Grand Hyatt in New York City.
"We're delighted that Josie has been honored in this way. She is one of the most accomplished entrepreneurs that I've met and worked with during my media career," said Alan Glass, Chairman and CEO of CFO Publishing. "She has brought those successful entrepreneurial instincts and atmosphere to our CFO media company."
Josie King has been the leader of Innovation Enterprise since its inception in 2009 and has led the company to significant growth and profitability year-on-year. In 2012 IE was purchased by CFO Publishing and is the company's largest operating unit. Honored in the Entrepreneurs category, Josie has managed to create a company that looks at business summits in a totally new way, resulting in Innovation Enterprise becoming the leaders in the markets in which they operate. This includes the world renowned conferences Chief Strategy Officer, Big Data Innovation, Chief Innovation Officer, Advanced Analytics and the CFO Rising events. Her approach gives young entrepreneurial conference organizers total power over how the summit is run, from where it will be held to what brand of soda will be served to guests. A willingness to listen to issues, adopt new ideas and maintain a flexible, agile company have been the foundations that have seen IE arguably become the most innovative company currently working in the conference space.
Honors went to women in six categories, including corporate visionaries, industry leaders, director-level doers, entrepreneurs, rising stars and mentors. Other honorees can be viewed at http://www.foliomag.com/awards/topwomen. Folio, a multi-channel resource for the magazine and online media industry, gives out a series of awards throughout the year.
About *IE.: Innovation Enterprise Ltd, a CFO Publishing company is an independent business-to-business multi-channel media brand focused on the information needs of Senior Finance, Operations, Planning, Strategy, Decision Support & Advanced Analytics executives. Products include IE. and CFO Summits, IE.Finance, IE. Analytics, IE.Operations, IE.Strategy, IE.Membership and IE.Insights. Whether it's delivered online, or in person, everything IE produces reflects the company's unshakeable belief in the power of information to spur innovation.
About CFO Publishing: CFO Publishing LLC, a portfolio company of Seguin Partners, is the leading business-to-business media brand focused on the information needs of senior finance executives. Delivering content through multiple channels including online, digital, mobile, and print, the business consists of CFO magazine, CFO.com, CFO Research Services, CFO Learning, CFO Conferences and Innovation Enterprise. CFO's award-winning editorial content and loyal, influential audience make it a valued resource for its readers as well as an effective marketing partner for a wide range of blue-chip companies. CFO has long-standing relationships with more than a million finance, technology, analytics and operating executives.